Actor Suniel Shetty has been busy with his daughter Athiya's rumoured wedding with cricketer KL Rahul.
He was seen thanking the paparazzi for something in this latest video.
The visuals capture him in his swanky and butch Land Rover Defender SUV.
In this latest video, veteran actor Suniel Shetty is seen with his swanky Land Rover Defender SUV. Now, an actor like Suniel needs no introduction as he is among the most popular actors for a long time. It was reported that her daughter Athiya is getting married today to the popular cricketer KL Rahul. It looks like Sunil Shetty has been busy with the preparations and the ceremonies which is when he was spotted by the paparazzi. He's seen thanking them and addressing the fans at this location which looks like his Khandala farmhouse. Here are the details.
You may also like: Car Collection of KL Rahul and Athiya Shetty – VIDEO
You may also like: Influencer 'Tests' Build Quality of Rs 1 Crore Land Rover Defender with Hammer!
You may also like: Rs 2.2 Crore Land Rover Defender Crashes at 160 km/h in First Accident in India
You may also like: Raveena Tandon's Daughter Rasha Seen in Mercedes GLS Luxury SUV
Suniel Shetty with his Land Rover Defender
The video has been uploaded by Cars For You on YouTube. This channel keeps posting content around celebrities and their ostentatious and expensive cars. This time around, they spotted Sunil Shetty aka Anna. He is seen getting out of his white Land Rover Defender luxury SUV and greeting the paparazzi. There are a lot of people who come out of the SUV who look like his security personnel. After talking to the cameraman for a while, he gets back in his luxurious SUV and drives away.
You may also like: 2022 Suzuki Jimny vs Rs 1 Cr Land Rover Defender 90 in Off-Road Battle
Specs
The Land Rover Defender comes in 3 variants – 90, 110 and 130. In the Defender X iteration, it comes powered by a 3.0-litre 6-cylinder mild hybrid petrol engine that produces 400 PS and 550 Nm of peak power and torque. Power is sent to all four wheels via the 8-speed automatic transmission. It has a top speed of 191 km/h. It can achieve 0-100 km/h in just 6.6 secs despite it weighing a colossal 3,380 kg (Gross Vehicle Weight).
You may also like: Aryan Khan Seen in Rs 1.64 Crore Mercedes GLE AMG at Kajal Anand's B'day Bash
Costs Upto Rs 2.2 Crore
Since the SUV is also meant for off-roading excursions, it has air suspension. It allows a maximum ground clearance of 290 mm. That is enough to get you across most obstacles on the road. The length of the SUV is just shy of 5.1 m and the wheelbase is well above 3 m. The prices of the SUV start at a modest Rs 80 lakh and go all the way up to Rs 2.19 Crore, ex-showroom. What are your thoughts on the Suniel Shetty Land Rover Defender?
You may also like: Sajid Nadiadwala Seen with his Mercedes-Benz V-Class 220d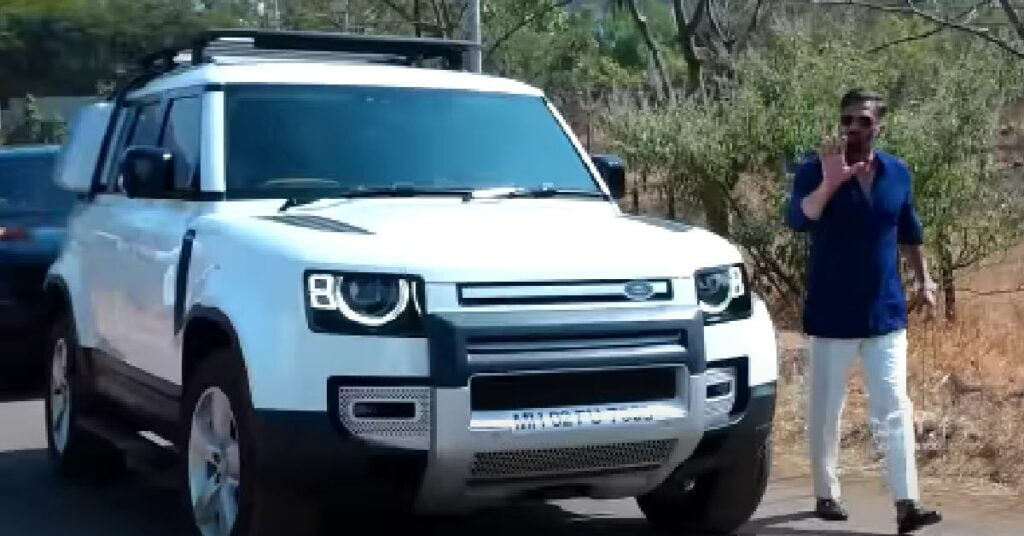 You may also like: Disha Patani Seen in her Range Rover Sport – VIDEO
Disclaimer- The embedded videos/ external content is/are being used as a convenience and for informational purposes only; they do not constitute an endorsement or approval by Car Blog India of any of the products, services, and /or opinions of the corporation or organization or individual. Car Blog India bears no responsibility for the accuracy, legality, and/or content of the external site or for that of subsequent external videos/ external content. Contact the external publisher for answers to questions regarding its content.
Join our official telegram channel for free latest updates and follow us on Google News here.