Suzuki Japan has just unveiled their concept car-  Suzuki Regina at Tokyo Motor Show in Japan. Suzuki Regina is their global compact hatchback which will make it to production in couple of years from now. The Regina is new aerodynamic and rounded concept which has two USPs – High Fuel Efficiency and Low Emissions. The buzz word in the automobile industry globally under the rising fuel prices is the fuel economy, and Suzuki has tried to address the same with small light weight Regina concept which weighs just 730 Kg and has a very low wind resistance because of its aerodynamic styling. The fuel efficiency of Regina is expected to be close to 32 KMPL and CO2 emissions are expected to be as little as 70g/Km with its fuel efficient petrol engine.
image – Suzuki Regina Concept Car Exteriors
After a long time, after Suzuki Concept S, which made it very large for Suzuki globally as popular Maruti Swift in India, Regina looks like a next promising attempt. To some extent, the Regina also looks rounded and much more aerodynamic than the swift. The side profile and aerodynamic lines running along the car makes it look like its completely an output of the Wind tunnel testing by Suzuki R&D in Japan.
image – Suzuki Regina Concept Car Exteriors
The top look of the car is also very smooth and the rear spoiler integration with the roof also look very sporty. The overall design is with large wheelbase with the axles put at almost the extreme and and have a wide track for high stability and good handling. The overall ride height and center of gravity appears to be low making it a stable design around the corners.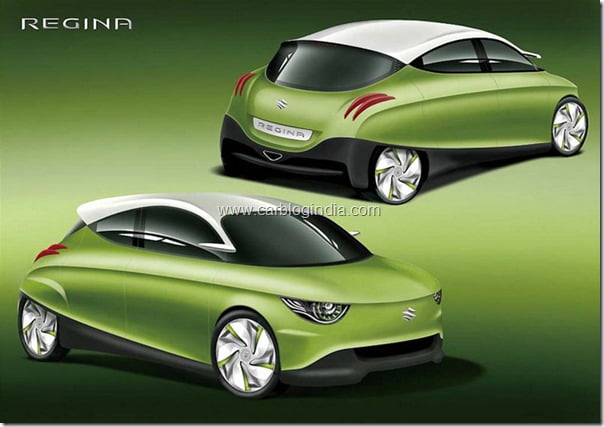 image – Suzuki Regina Concept Car Exteriors
Besides the compact exteriors, the cabin carves out lot in interior space with intelligently places low floors, slim seats, nicely carved out door trims, cheerful colour tomes and light coloured door and roof trims to add a feeling of added space.
image – Suzuki Regina Concept Car Interiors
The concept vehicle is a 2 door 4 seater, with high technology instrument cluster mounted at the center of the dashboard with controls at the middle. The bottom of the seats have also been kept slim to carve out some storage at the nooks and corners inside the car.
image – Suzuki Regina Concept Car Interiors
It will be interesting to see the car come out as the production car in coming years. Will it as big a success as Suzuki Swift did globally? Well only time will tell that. We hope that we see this car at the Indian Auto Expo 2012 in a few weeks.
image – Suzuki Regnia Concept Car Interiors
image – Suzuki Regina Concept Car Interiors
Updates on 12 March 2012:
Suzuki has re-badged (renamed) the Regina concept as Suzuki G70 at the Geneva Motor Show. G70 is the nickname which was given to the car during its development process. With its rigid but light weight platform, the G70 weighs just 730 Kg which is 100 Kg less than the Suzuki Alto. The fuel economy of the G70 is at par with hybrid cars of today with its low coefficient of drag and better aerodynamic performance. The concept has a micro-hybrid start stop system with regenerative braking to make it waste less energy while braking. The G70 concept uses a fuel efficient turbocharged 800 CC GDI petrol engine with CVT based automatic transmission system.
Suzuki G70 aka Regina Specifications
Vital specifications and dimensions of Suzuki Regina or G70 Concept include :
800 CC Direct Injection Petrol Engine
Turbocharged engine with GDI technology
Automatic start-stop or Micro-Hybrid system
Regenerative Braking for better fuel efficiency
CVT Bases automatic transmission system
Length : 3550 mm
Width : 1630 mm
Height : 1430 mm
Wheelbase : 2425 mm
Seating Capacity : 4 Adults
Weight : 730 Kg
Do check out our exclusive coverage of the Auto Expo 2012 for more such upcoming cars. Stay tuned to us using our official Facebook page and sign up for our free email newsletter.
check out more-