Tata Nexon is a 5-star safety-rated compact SUV that has saved the lives of many passengers on account of that.
A case has emerged recently where a Tata Nexon crashes at 120 km/h on a highway. Nexon is an extremely popular compact SUV in our market. In addition to carrying striking bold styling and coming equipped with the latest features, its full 5-star safety ratings at the GNCAP are a prime factor driving that craze among car buyers. However, having a 5-star safety-rated car doesn't warrant anyone to drive recklessly. Here are the details of this crash.
You may also like: Heartless Tata Nexon Owner Has a Cruel Way to Protect Car From Stray Dogs
You may also like: Tata Nexon vs Skoda Kushaq – Which 5-star SUV is Safer?
Tata Nexon Crashes at 120 km/h
Nikhil Rana has uploaded this video on his YouTube channel. He posts such incidents in order to raise awareness among Indian car buyers regarding the importance of buying cars with high safety ratings. As per the information in this video, the driver of the Nexon was not wearing a seatbelt. This accident has been reported from Assam. The SUV was being driven at 120 km/h as seen by the images in the video. Resultantly, the SUV got uncontrolled and landed in a field down the road.
You may also like: Mahindra Bolero (GNCAP – NA) Hits Tata Nexon (5-Star), Inflicts Major Damage
However, the impact was so forceful due to the high speed that the driver was thrown out of the car. It rolled over a few times before coming to a halt. There is no information about the condition of the driver. But it is clear that had he been using the seatbelt, he would've stuck to the seat. This incident clearly shows the consequences of not wearing seatbelts. The condition of the car is pretty bad but it doesn't look like a vehicle that has been involved in a crash at over 120 km/h. This is a testament to the build quality of the Nexon.
You may also like: First MASSIVE Accident of Tata Nexon Kaziranga Edition Reported – Performs As Expected
Prevent Overspeeding
In conclusion, we would like to caution our readers against overspeeding. It is the most common reason that causes road accidents. We must understand that thousands of lives are lost on roads in our country every year. Just by following traffic rules and preventing overspeeding, we could actually restrict the damage to a large extent and even avoid collisions in most cases. Let us pledge to be responsible drivers to make our roads safe.
You may also like: Tata Nexon Drives into Bus to Save Cow on Road- SHOCKING Results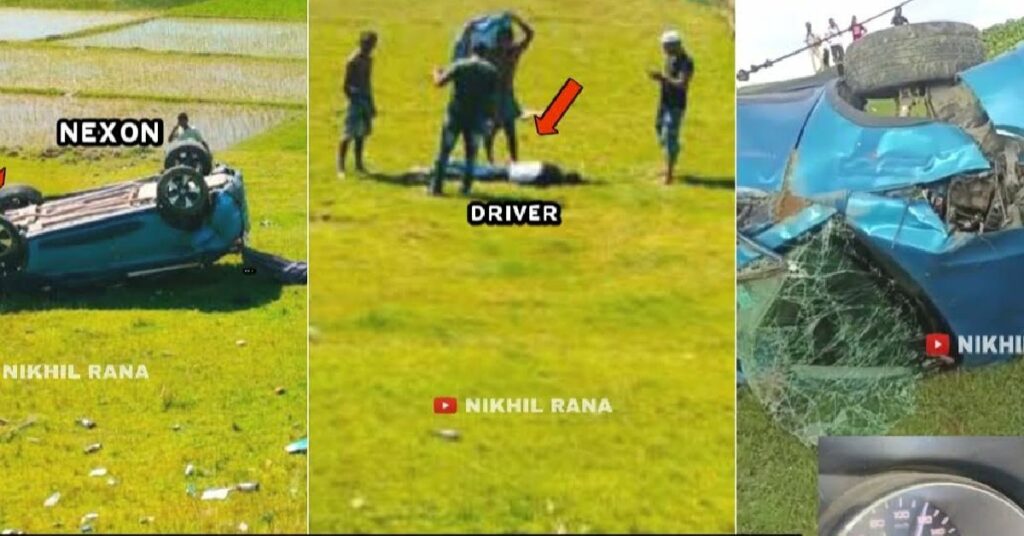 Disclaimer- The embedded videos/ external content is/are being used as a convenience and for informational purposes only; they do not constitute an endorsement or approval by Car Blog India of any of the products, services, and /or opinions of the corporation or organization or individual. Car Blog India bears no responsibility for the accuracy, legality, and/or content of the external site or for that of subsequent external videos/ external content. Contact the external publisher for answers to questions regarding its content.
Join our official telegram channel for free latest updates and follow us on Google News here.