Here is an incident where a regular car owner had to suffer the consequences of the carelessness of the authorities.
In a bizarre case, a Tata Nexon falls into a hole on the side of the road. We have seen, time and again, that the local authorities are often irresponsible when it comes to road safety. The sheer lack of signs in case of irregularities on the road or before a section of the road where work is going on can bear terrible outcomes, as seen in this video. Let us take a look at the details of this unfortunate incident.
You may also like: Tata Nexon Hangs From a Bridge As Driver Loses Control in Fog – VIDEO
You may also like: Tata Nexon Crashes at 120 km/h, Driver Thrown Out – Here's Why
You may also like: Heartless Tata Nexon Owner Has a Cruel Way to Protect Car From Dogs
Tata Nexon Falls in a Hole
This video has been uploaded by Nikhil Rana on his YouTube channel. He posts such content on his channel in order to raise awareness among Indian car buyers regarding the importance of buying cars with high safety ratings. In this video, we take a look at the damage that the 5-star-rated Nexon incurred after falling into a pothole on the side of the road. As per the information, this accident took place in Bilai, Uttar Pradesh. There was a pothole dug by the authorities almost in the middle of the road since the past 2 years.
You may also like: Mahindra Bolero (GNCAP – NA) Hits Tata Nexon (5-Star), Inflicts Major Damage
Multiple accidents have been reported due to this. There are no sings indicating that the road ahead leads into a pothole to warn the drivers. As a result, a Nexon driver drove into the hole and his SUV was bonnet deep in the dirty water. It was later recovered. However, the owner wants to bring this irregularity to the notice of the authorities. Despite numerous accidents due to this carelessness of the authorities, no action has been taken.
You may also like: Tata Nexon vs Skoda Kushaq – Which 5-star SUV is Safer?
In such cases, there is just one thing that we can do. We must approach the concerned authorities. It is their responsibility and duty to take care of such things. However, in this case, they are the ones who are being so negligent. Resultantly, the common people are having to deal with the consequences. What are your thoughts on the matter?
You may also like: Tata Nexon Hits Parked Hyundai Santro, Sustains Surprisingly Serious Damage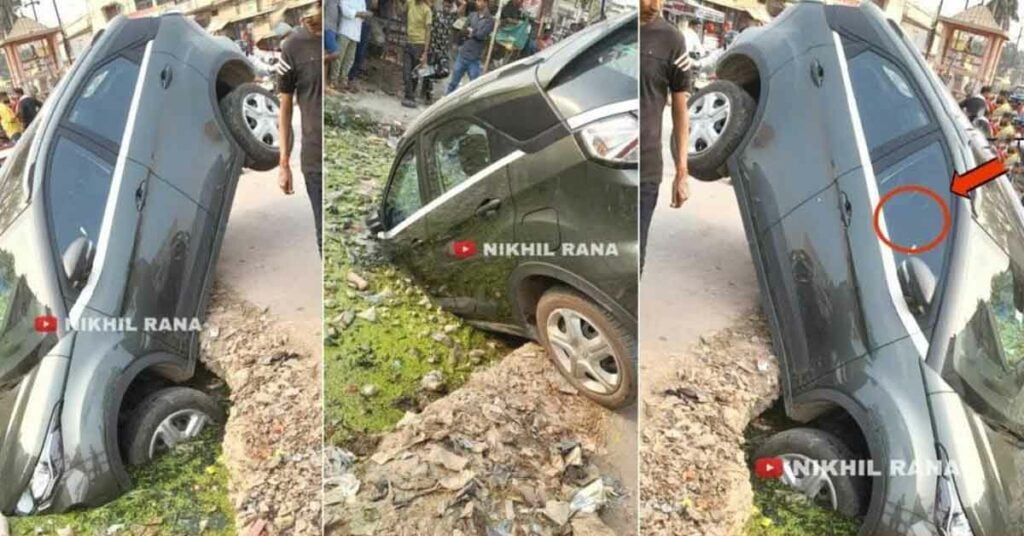 Disclaimer- The embedded videos/ external content is/are being used as a convenience and for informational purposes only; they do not constitute an endorsement or approval by Car Blog India of any of the products, services, and /or opinions of the corporation or organization or individual. Car Blog India bears no responsibility for the accuracy, legality, and/or content of the external site or for that of subsequent external videos/ external content. Contact the external publisher for answers to questions regarding its content.
Join our official telegram channel for free latest updates and follow us on Google News here.