It is simply amazing to see how politicians have the power to reprimand even police officials for doing their job.
In the latest news, the MLA of Sidhauli, Sitapur in UP is seen scolding a police officer for doing his job. You must've seen politicians and their fancies. Their power is quite renowned. They represent the public which also puts them under huge responsibility. That is what gives them power. However, at times, the power of politicians can clash with the duty of the police. This looks like one such case. Check out the details of this here.
You may also like: BJP MLA's Toyota Fortuner Falls 50 feet Off bridge: All Safe – Video
You may also like: Lucknow Youth Cuts Cake on Road, Police Makes Him and His Friends Clean the Mess
You may also like: Did Chandigarh Traffic Police Slap Challan on a Judge for No Parking?
MLA Scolds Police Officer in UP
This video has been posted on YouTube by Decode Trend. In it, the MLA of Sidhauli in Sitapur, Maneesh Rawat is seen reprimanding a traffic police officer. While there are not too many details of this incident, it is said that the Police officer hands challans to the road users frequently. As per the information in the video, many people have registered complaints against the officer. For instance, people performing tripling on roads are challaned by him, and rightly so.
You may also like: Traffic Policeman Challans Another Cop for Half Helmet, Video Goes Viral
However, the MLA says that he has received multiple complaints from people. While he may be handing them challans for the right reasons, these people say that they often are in an emergency. These are locals who often do tripling to reach the local shops, medical stores, etc. The MLA asks the police officer to understand this aspect where the locals are not violating the rules out of fun but necessity. This is a classic case of both parties having a point.
You may also like: India's Biggest Car Thief Arrested by Delhi Police – Stole Over 5,000 Cars
But such situations cause resentment among the people toward the police authorities. While we understand that people might be doing tripling or riding without a helmet for a few mins in their locality but it could still be dangerous for them. Tripling and not wearing helmets are prohibited only due to the safety hazards associated with them. Therefore, we must never make an excuse not to follow rules and regulations. But we understand the predicament that the police officer finds himself in. We would love to hear your opinions about this bizarre case.
You may also like: Delhi Police New Traffic Advisory Is Inspired By Our Trucks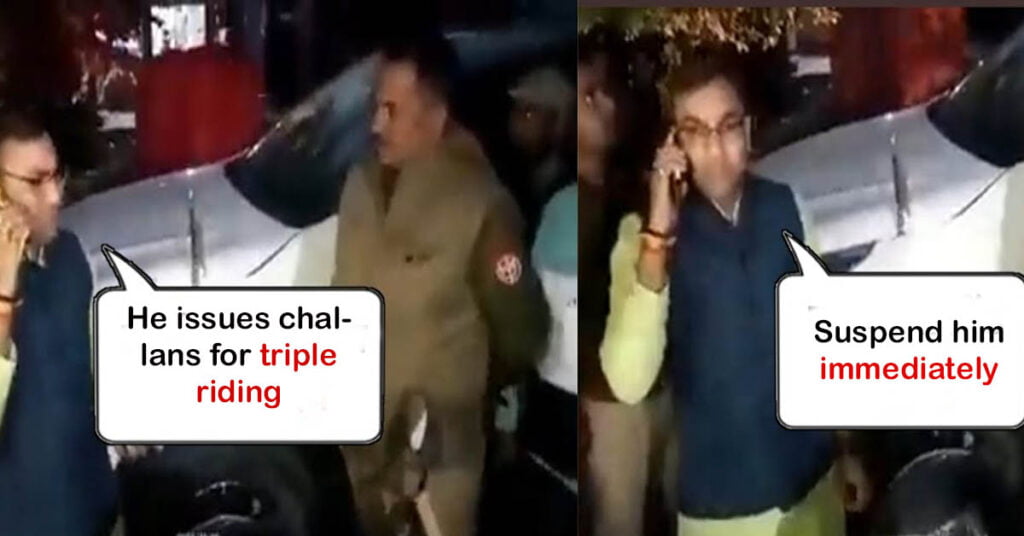 Disclaimer- The embedded videos/ external content is/are being used as a convenience and for informational purposes only; they do not constitute an endorsement or approval by Car Blog India of any of the products, services, and /or opinions of the corporation or organization or individual. Car Blog India bears no responsibility for the accuracy, legality, and/or content of the external site or for that of subsequent external videos/ external content. Contact the external publisher for answers to questions regarding its content.
Join us for FREE NEWS Updates on our Whatsapp Community or our official telegram channel.