Vloggers are back at it with hilarious and unorthodox methods of testing the build quality of popular vehicles by simply banging the doors.
A YouTuber posts a video where he tests the build quality of the Maruti Baleno and Tata Punch by banging the doors. Now, this is a funny and weird method of establishing the safety credentials of a vehicle. While the official GNCAP testing offers a ton of intensive and detailed activities where a car needs to perform well to receive a decent safety rating, people on the internet are occupied with such comic ways to judge how strong a car is.
You may also like: 3 Gruesome Accidents That Show Maruti Should Send New Baleno to G-NCAP
You may also like: Testing Strength of Old and New Maruti Baleno by Pressing & Pushing
Testing Build Quality of Baleno & Punch By Banging Doors
The video clip has been posted in the form of YouTube Shorts because the audience found a similar video quite entertaining. The YouTuber approaches the Baleno first and starts by opening and shutting the boot of the premium hatchback. Just by the sound of it, he adjudged it to be a bit flimsy. A similar experiment is run on the front and rear doors. Apparently, the thud sounds of closing the doors is enough to rate the car as stable and strong.
You may also like: Maruti Baleno Crashes at 120 kmph, Owner Questions Criticism of Build Quality
Thereafter, he approaches the Tata Punch parker nearby. He repeats the experiment by opening and shutting the doors of the sub-compact SUV and passes on the verdict that the Punch sounds much better and strong compared to the Baleno. He adds that the Punch is a 5-star safety-rated product which is what the thud sounds also confirm. This might be pretty entertaining but should not be taken as an official or even a reliable source of judging the build quality and strength of an automobile.
You may also like: Tata Punch (5-Star NCAP) Hits Electricity Pole, Breaks It Into Two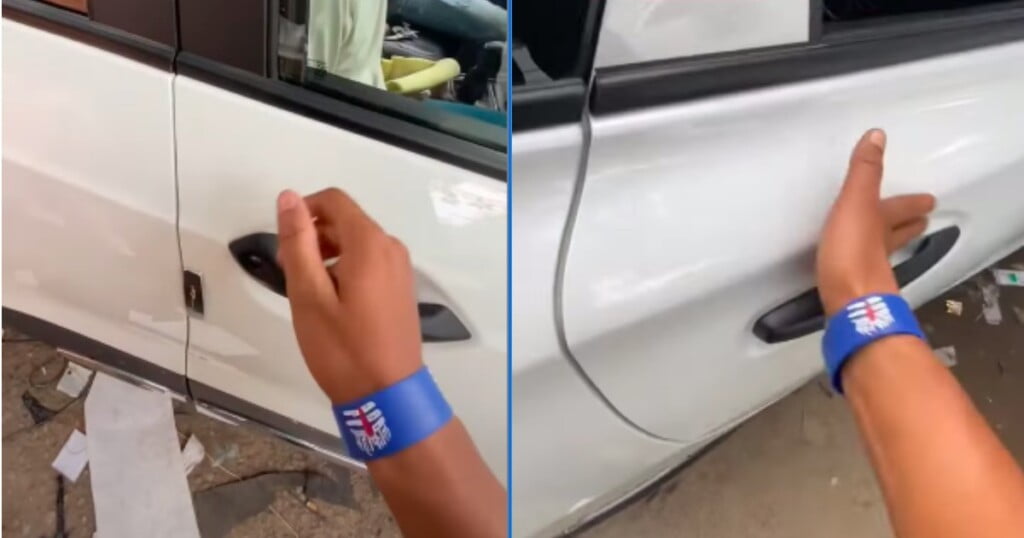 While the Punch has been tested by the GNCAP and received a full 5-star safety rating, the Baleno is yet to be put through the test. However, this new Baleno has witnessed a few modifications to the components which have resulted in an increased weight of around 70 kg. Maruti is confident that it will lead to a respectable GNCAP score once the agency decides to crash-test the premium hatchback. With the number of Balenos selling every month, we hope that it proves its improved safety.
Join our official telegram channel for free latest updates and follow us on Google News here.