In a rather interesting turn of events, a vlogger priest showcases his Maruti Alto which he uses to sleep while travelling the country.
A YouTuber, vlogger and a priest explains the characteristics of his Maruti Alto that he has turned into a bit of an RV. People rent or buy RVs (Recreational Vehicles) when they wish to travel non-stop and have to sleep, eat, and live in them. The trend of RVs is not that common in India. But that doesn't stop this priest to convert his Alto into a basic RV that allows two people to sleep and live in it. Let us check out the details of this unique arrangement.
You may also like: Affordable Cars Like Maruti Alto and Renault Kwid to Discontinue?
You may also like: Maruti Alto Lying in Gutter Will Push Newbies to Take Driving Seriously
Vlogger Priest Makes Maruti Alto His House
Kanhaiya Sharma is a priest by profession who has taken up the initiative to follow his duties via the medium of YouTube. He uploads videos where he interviews saints, priests and religious and spiritual leaders in various parts of the country, and visits temples and other places of religious significance in order to share the wisdom and knowledge about our heritage with the viewers at home. His partner in this journey is his brother who takes care of the camera work and a Maruti Alto. While you might not immediately think of Alto being a spacious car by any means, wait till you watch the ingenious methods used by Kanhaiya to transform it into an RV.
You may also like: Next-Generation Maruti Suzuki Alto 800 Coming In 2022 – DETAILS
To begin with, he has installed a large battery, inverter, electronics and power sources in the Alto to ensure that his gadgets, camera and other electronic devices are active irrespective of where he is. He, generally, visits remote areas where the electricity or comfort of hotels is not available. Hence, there is enough power in the car to charge his appliances. He has also installed a wooden foldable bed that makes for a flatbed on which the two people sleep. There is a provision for a portable table fan that hangs on the rope tied between the grab handles in the second row to ensure proper ventilation on hot summer days. To prevent themselves from mosquitos and insects, he covers the doors with mosquito nets by hanging them over the doors.
You may also like: Here is The Craziest Wide Body Modified Maruti Alto You'll Ever See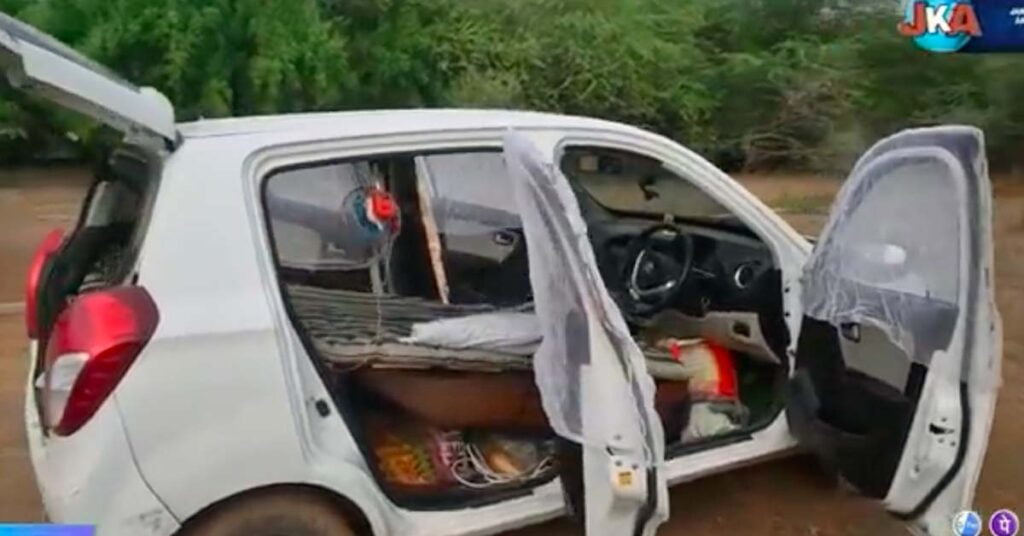 Needless to mention, he has taken the rear seats out to make room for all these things. He often carries large amounts of raw food items that he cooks at times. This is a testament to the reliability and trust that people have in Maruti products. They are low on maintenance, and the service and spares are available even in remote areas due to a dense network of dealerships and service centres. Let us know your thoughts regarding this unique priest vlogger and his Maruti Alto RV.
Join our official telegram channel for free latest updates and follow us on Google News here.