The era of EVs and automobile digital designers is prevalent and holds massive promise. This digitally rendered 2024 Ford Bronco EV concept is an indication of that.
Ford Bronco looked promising when it entered the market but this digital EV concept of the lifestyle off-roader SUV looks completely future-ready. While Ford may have quit manufacturing in India, it continues to be one of the most prominent players in the international market. This is especially true considering their latest products are all catered toward electrification. At some point in time, the Ford Bronco EV will hit the market as well. That is precisely the reason why SRK Designs chose this as their project to develop an EV version of the Bronco.
You may also like: Jeep Wrangler vs Ford Bronco Crash Test Offers Interesting Results
You may also like: This Old Endeavour is a WANNABE Ford Bronco! Yay or Nay?
Ford Bronco EV Concept
The designers have given a lot of attention to detail ensuring that the final product looks like it is inherently electric in nature. For this, they have closed the front end of the SUV totally as EVs don't need fresh air to operate. That is the most pertinent change to the front fascia of this Bronco EV. The LED DRLs housed inside the headlamp cluster are neatly merged with the LED strip inserted on the front (where the grille would have been). This area has been painted white and the bumper is neatly merged into this part leaving no part exposed to the atmosphere. The alloy wheels are also taken from the common trend that is seen on other EVs. This and the electric sky blue paint shade suit the electric credentials of the concept well.
Specs
For the U.S. market, the Bronco comes powered by a 2.3-litre Ecoboost engine producing 275 hp (300 hp with premium fuel) and 427 Nm (441 Nm with premium fuel) mated to a manual or a 7-speed automatic or a 10-speed automatic transmission. The bigger engine is the 2.7-litre Ecoboost V6 engine that makes 315 hp (330 hp with premium fuel) and 556 Nm (563 Nm with premium fuel) mated to either a 7-speed or a 10-speed automatic gearbox. There are a ton of off-roading equipment and features to propel this SUV through any sort of terrain with the 4×4 drive system.
You may also like: Ford Bronco vs Jeep Wrangler Drag Race: One Of Them Gets Annihilated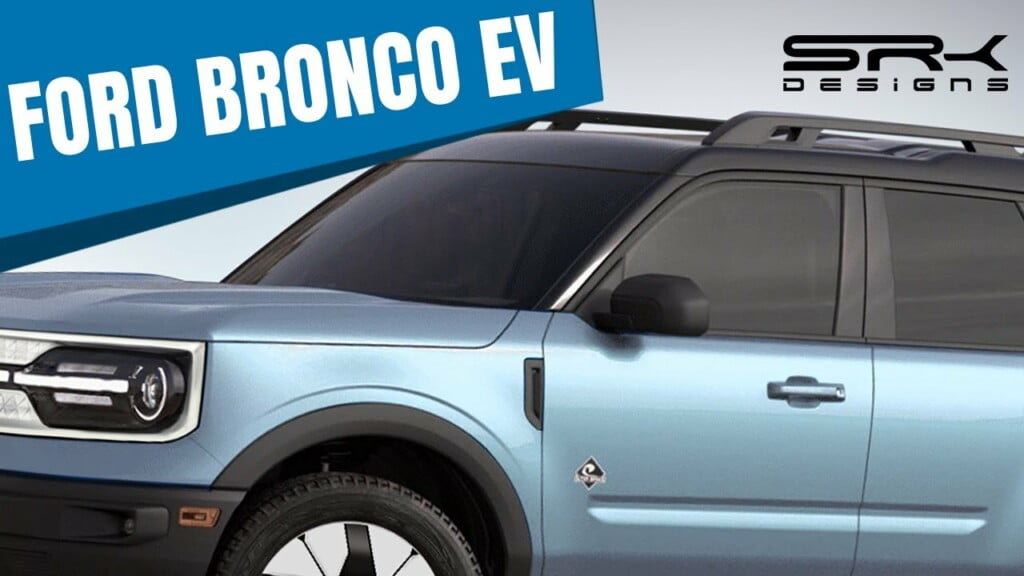 Let us know what did you think about this Ford Bronco EV concept and would you want such a capable SUV in India via the CBU route?
Join us for FREE NEWS Updates on our Whatsapp Community or our official telegram channel.