Continental showcased ARAS, ABS, Connected Technologies, and Surface Solutions, and other technologies that suit the requirements of the Indian market
Continental Automotive India held a 2-wheeler TechDrive event on April 4 and 5 at the Taneja Aerospace and Aviation Limited in Hosur. At the event, the technology company showcased the company's latest technology solutions in the field of Advanced Riders Assistance Systems, Advances ABS, connected technologies, software solutions, safety solutions, tires, and surface solutions, among others.
You may also like: Nissan's New Engine Combines Qualities of Petrol and Diesel Motors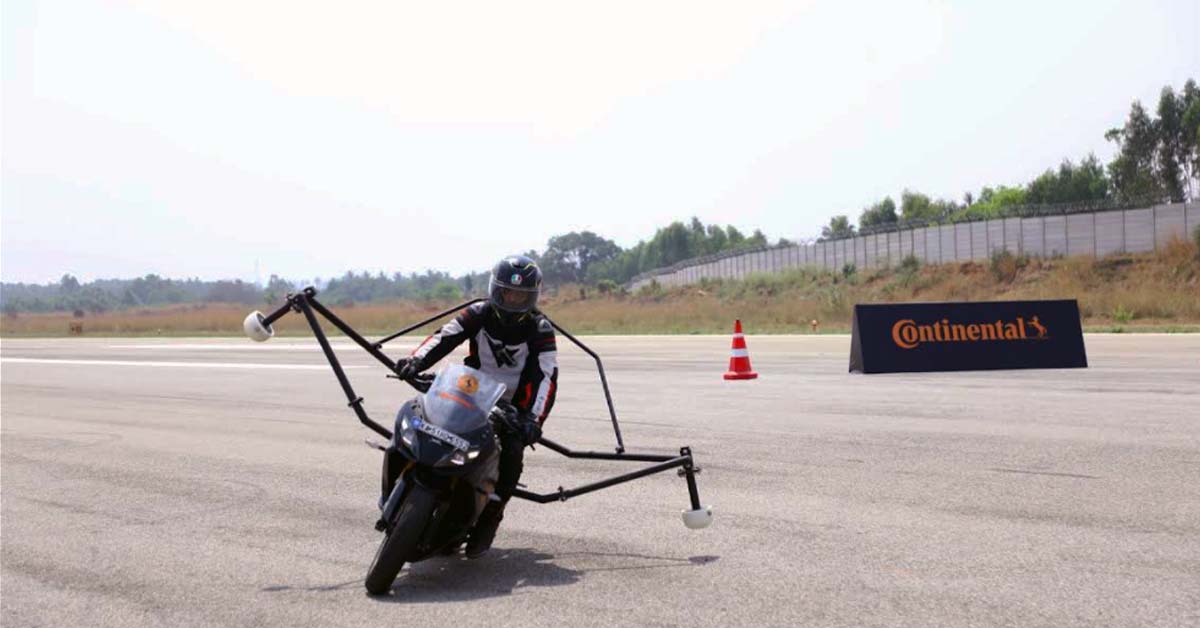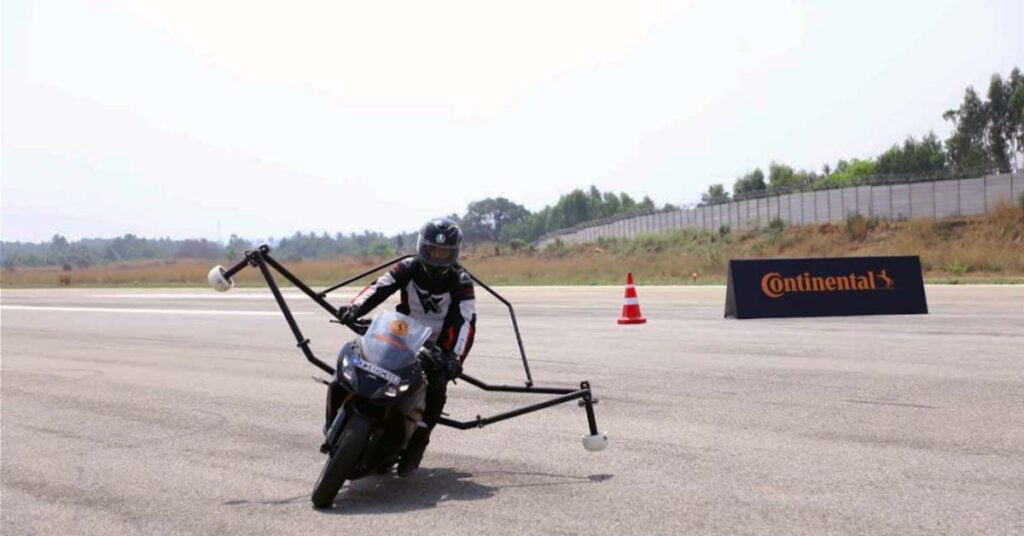 Speaking at the event, Prashanth Doreswamy, President and CEO, Continental India said, "This event is aimed at showcasing our eclectic range of technologies that have been carefully developed in the market for the market to suit the needs of the local consumer. With a strong R&D team strengthening the product development value chain, Continental aim to provide our customers with cutting edge, affordable, and reliable solutions."
You may also like: Here is a List of the Most Prominent Functions of ADAS Technology
Continental 2-Wheeler Technologies on Display at TechDrive
Blind Spot Detection (BSD) – This feature detects and monitors blind spots on behalf of the the rider through a radar sensor. The system offers visual warnings to the rider in case of an approaching vehicle oblivious to the rider. In fact, the system can even indicate hazardous lane changes through the Lane Change Assist (LCA) feature.
Optimized Curve Braking (OCB) – This feature enables effective application of the brakes in curves or turns where there is a high chance of mishaps due to wheel lock up. In this system, the motorcycle's ABS first notes the angled position of the vehicle through lean angle information from the Continental sensor box and based on the incline, the braking system control becomes highly sensitive to prevent wheel lock.
Digital Service Platform – The platform offers various digital services to help the consumers with a seamless experience, be it a private user, shared mobility user, fleet operator or logistics operator. The services on offer on this platform include Key as a Service, live tracking, geo fencing, User Registration & Management, B2B Interface, Smart Booking, and Trip History, among others.
You may also like: When is the Right Time to Replace The Clutch of your Car?
Telematics Control Unit (TCU) – With connectivity now playing a huge role in the automotive world, 5G could become a key highlight of the the future mobility. Continental's TCU will work with the latest mobile technology to improve driving safety, comfort and efficiency through real-time communication between connected vehicles and infrastructure.
Deflation Detection System Plus (DDS+) – DDS helps in detecting tire pressure loss by using wheel speed sensor signal, with no additional need for sensors. The technology works effectively by simply collecting data from wheels speed sensor and projecting the tire pressure.
Mobile Communication Unit (MCU) – This is a key component to connect the vehicle with the internet. The MCU even makes the vehicle ready for sharing operations instantly.
48V Battery Management System (BMS) – The 48V BMS enables features such as cell voltage supervision and balancing, pack voltage and current supervision, SOC/SOH calculation and power prediction. The BMS is also ISO 26262 capable (ASIL C) equipped with cyber security.
You may also like: Important Things You Must Know About Car Air Fresheners
Wheel Speed Sensors (WSS) – WSS transmits the wheel speed of every wheel to the Anti-Lock Braking System.
Engine Speed Sensor – Engine Speed Sensor provides CAM and CRANK position signal to electronic control units (ECU).
eRPS (Electric Rotary Position sensor)- The eRPS is used in Electric Vehicle at motor front end to check high speed rotor position sensor measuring the angular position of the rotor shaft in synchronous electric motors.
Key as a Service (KaaS) – KaaS is a secure, virtual key, and telematics solution that offers seamless user experience for vehicle access, start authorization, and accurate vehicle data.
Hybrid Display Solution with Connectivity feature – Offering a segmented display in dot matrix for display of custom messages, Turn by Turn navigation and mobile parameters on instrument cluster.
Diagnostic Solutions – These solutions enable deep scrutiny of the vehicles to gather more details of their condition and their servicing needs.
You may also like: How Do You Know It Is Time To Replace The Brake Pads Of Your Car?
TFT Display Solution – TFT based instrument cluster solution with BLE, Ethernet, Optical Bonding, Video input and Touch screen. This platform is highly customizable.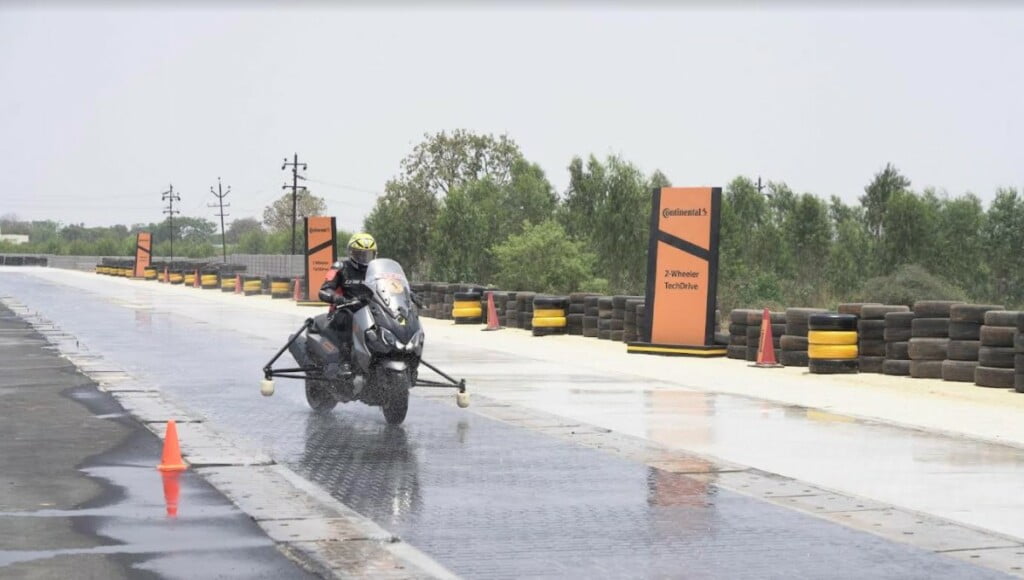 Generic Vehicle Control Unit (gVCU) – VCU designed with multiple and customizable vehicle interfaces for different vehicle control.
Synchrochain Carbon Belt – Heavy-duty timing belt features specially treated fabric, polyurethane teeth, carbon tension member and polyurethane backing for all extreme applications including replacing chains. Offers reduction in system width by up to 80 percent when compared with standard timing belts.
Synchroforce Carbon belt – Heavy-duty timing belts in specially finished fabric, featuring synthetic rubber teeth and backing for high acceleration forces and shock loads with a glass-carbon hybrid tension member.
You may also like: Here is Why Wheel Balancing is Important For Your Car!
ContiRoad – It is a sport touring tire that promises an agile handling on country roads. The newly developed tire from offers a modern tread compound that is inspired by the test winning ContiRoadAttack 3 technology. The tires also offer a high mileage, thanks to non-tangent profile grooves at the central tread of the rear tire. A new silica-technology guarantees a high micro-interlocking with the asphalt in the wet conditions, while the tread design with an extra-large positive proportion claim to offer a higher mechanical grip.
Continental Surface Solutions – Acella Eco is a premium surface material used for enhanced performance in service life, reduced emissions and high perceived quality with excellent touch and feel. Design flexibility on Acella Eco products gives freedom to designers to offer a unique experience to the end users. Acella Eco optimized with reduced solar reflection was also presented for requirements of reduced seat surface temperature.