Honda Brio has been making a lot of buzz in the small car space since its launch. Recently I saw the TV commercial of the Brio airing on major national TV channels of India. We have covered complete details of Honda Brio here. In our car comparison series on Car Blog India, we will compare in detail  the Brio with another vibrant car in this segment, the Chevrolet Beat by General Motors India.
Honda Brio Exteriors Vs Chevrolet Beat Exteriors
image – Honda Brio (Left) and Chevrolet Beat (right)
Honda Brio Dimension
Length = 3610 mm
Width = 1680 mm
Height = 1500 mm
Wheelbase = 2345 mm
Honda Brio has got quite fresh and vibrant exteriors. The more you see it, the more you admire the styling, sharp lines as well as the cute curves of the Brio. In terms of Styling and exterior, the Brio looks very attractive and sporty. Its slightly less in length, more in width and less in height compared to the Beat. Also the wheelbase of the Brio is slightly less than the Beat.
Chevrolet Beat Dimensions
Length = 3640 mm
Width = 1595 mm
Height = 1520 mm
Wheelbase = 2375 mm
Beat is one of the funkiest and most sporty looking small cars in India. In past many years, we haven't seen such radical designing with high sporty appeal. The Beat made its debut in Auto Expo 2010 in India and since then seems to be boldest and sportiest design in its price segment. We like the Beat and Brio both, alike in terms of exteriors, so we will call it a tie.
Honda Brio Interiors Vs Chevrolet Beat Interiors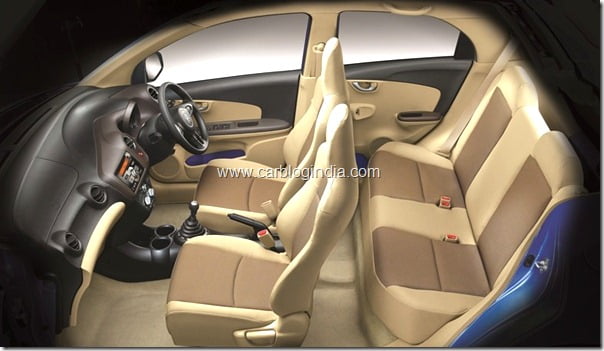 image- Honda Brio Interiors
Honda Brio is packs the space very intelligently and with its higher width, slender designing on the interiors and premium finish, it feels spacious and comfortable besides being a small car. The features, space, quality of plastics, fabric etc. are all really good quality and makes you feel comfortable inside a Brio.


image – Chevrolet Beat Interiors
Beat is a very radical car with sporty appeal, it continues to be sporty on the interiors as well, but feels a bit cramped on the inside with less width, it can not seat 3 adults in comfort at at the rear seat because of low width and less shoulder room. However, its more sporty and appealing to sports enthusiast.  But considering the overall quality, feel of space, comfort and feel, we find Brio to be a notch above the Beat, so our vote for interiors goes to the Brio.
Honda Brio Petrol Engine Vs Chevrolet Beat Petrol Engine
Engine Specifications of Honda Brio
1.2 Litre 4 Cylinder i-VTEC Engine
Engine Displacement 1198 CC
Max power of 86.8 BHP @ 6000 RPM
Max torque of 109 Nm @ 4600 RPM
5 Speed Manual transmission
ARAI Certified Mileage of 18.4 KMPL
Kerb Weight 920 to 940 Kg
Power to weight ratio of 93.3 BHP /1000 Kg
Engine Specifications of Chevrolet Beat Petrol
New Generation S-TEC II engine
1199 CC / 4 Cylinder / 16 Valve DOHC
Max Power output of 79.4 BHP @ 6200 RPM
108 Nm Torque @ 4400 rpm
5 Speed Manual Transmission
ARAI Certified Mileage of 18.6 KMPL
Kerb Weight 965 Kg
Power to weight ratio of 82.2 BHP /1000 Kg
Considering the torque and max power output, along with the mileage figures of these two cars, Brio is a much better option with a larger power to weight ratio. It is a powerful package with good agility and with good fuel economy.
Honda Brio Petrol Handling and Performance Vs Chevrolet Beat Petrol Handling and Performance
In terms of handling and performance, Brio is a very nicely handling car with small amount of Body roll at high speed cornering. Apart from this, the steering is well weighted, the ride is comfortable and it is a pleasurable car to drive.
Chevrolet Beat has been tuned for sportiness with stiffer suspensions and does feel nice to drive. The suspension is a bit stiffer, so the ride comfort is not top notch, but the handling is quite good. It has also got a good steering feedback.
But when it comes to picking one of these two, we find Brio to be slightly better in handling and ride comfort.
Honda Brio Petrol Price Vs Chevrolet Beat Petrol Price
Honda Brio Petrol Prices in India are as follows:
The prices of Honda Brio Ex-Showroom Delhi are as follows:
Honda Brio E is priced at Rs.3.95 Lakhs
Honda Brio S is priced at Rs. 4.35Lakhs
Honda Brio S (Option Pack) is priced at Rs. 4.90 Lakhs
Honda Brio V is priced at Rs. 5.10 Lakhs
Chevrolet Beat Petrol Prices in India are as follows:
The prices of Chevrolet Beat Ex-Showroom Delhi are as follows:
Chevrolet Beat PS 1.2 Petrol is priced at Rs. 3.59 Lakhs
Chevrolet Beat LS 1.2 Petrol is priced at Rs. 3.87 Lakhs
Chevrolet Beat LT 1.2 Petrol is priced at Rs. 4.30 Lakhs
Chevrolet Beat LT with Options pack 1.2 Petrol is priced at Rs. 4.78 Lakhs
Lets do a quick feature comparison on value for money basis between the Honda Brio and Chevrolet Beat Petrol:
Honda Brio E Vs Chevrolet Beat PS
Beat is priced about Rs. 36,000 lower than the Brio on this variant and this is a significant difference, for those looking for  bare bone car at low price, Beat is a better bet at the lower end as its much more affordable, but at the same time, it lags behind Brio in the power and interior space. Also Brio has additional features like Immobilizer, central locking, front power windows, and many other small features.
Honda Brio E Vs Chevrolet Beat LS
The Beat LS and Brio E are practically priced at a negligible difference of under Rs. 10,000, which brings them head-to-head on pricing. In terms of value, both offer front power windows, internally adjustable OVRM, central locking, etc. whereas the space and power delivery of Brio is better, so for this price, Brio E makes more sense than the Chevrolet Beat.
Honda Brio S Vs Chevrolet Beat LT
When it comes to comparison between Brio S and Beat LT, there is again a small difference of Rs. 5,000 between the two. The features in this model offered by Beat include the body coloured door handles and ORVMs, Rear windshield washer and wipers, rear spoiler, sporty roof rails, sporty steering wheel with silver-black finish, all 4 power windows, automatic climate control, tilt steering, rear defogger, Integrated music system with CD/USB/Aux and USB support, front fog lamps etc.
On the other hand, Honda Brio also offers body coloured door handles and ORVMs, keyless entry, Integrated audio system with USB/Radio/AUX input but no CD support, Steering mounted audio controls which are missing in Beat, 4 door power windows, manual air conditioning while the Beat has automatic climate control, there is no tilt steering in this variant while the Beat LT has it standard. So in some factors, Beat is ahead, and in some other factors, the Brio is ahead. Overall, it's a matter of choice, I think both cars in these variant offer a good deal. I would however go for Brio for its better space and performance besides being behind Beat on some features.
Honda Brio S Option Pack Vs Chevrolet Beat LT with Option Pack
The Beat with LT Option pack includes ABS, alloy wheels and Airbags additional to the the Beat LT variant, whereas the Brio S with option pack offers mudguards, ABS, Airbags, tilt steering, electrically adjustable ORVMs etc. These two variant are again priced close with Brio being more expansive by Rs. 12,000. I would say both these variants offer safety features and good value for money and would call it a tie.
Honda Brio V Option Pack Vs Chevrolet Beat LT with Option Pack
The Brio V is priced at Rs. 32,000 more than the Beat LT with option pack and offers few features better than Beat, and lags behind on some other. Like the Brio V does have steering mounted controls which Beat does not, but Brio does not have automatic climate control which Beat has. Overall, these two are fully loaded variants and price difference is significant. So for a value for money buyer, Beat makes more sense.
Car Blog India verdict– Honda Brio Petrol Vs Chevrolet Beat Petrol
In most of the factors, Brio is ahead of Beat, except for some features which Beat offers. If you are not very strict on the budget, I would suggest that Brio is a better car in practical sense and offers better feel compared to Beat.
However, Beat offers some great features with good performance at a lower cost, so if you want more features on a lower budget, Beat would be a better option, otherwise, Brio is the car to go for.
check out more-
Join our official telegram channel for free latest updates and follow us on Google News here.