In our recent comparison post in Car Comparison Series on Car Blog India, we brought the 2012 Fiat Linea and 2011 Honda City sedans face to face. Now we are all set to compare it with the next tough competitor from the sedan segment, the Maruti Suzuki SX4.
2012 Fiat Linea Exteriors Vs 2011 Maruti Suzuki SX4 Exteriors
Whether you consider the overall built or the looks, Linea does not disappoint in either of the two. The road presence is simply amazing and being a Fiat is special in itself. It has been built extremely well and looks pretty upmarket. Although one would not find it sporty enough, the sheer elegance will draw your interest.

image – 2012 Fiat Linea(Left) and 2011 Maruti SX4(right)
The SX4 has an aggressive character that is enhanced by its firm stance. There is nothing interesting in terms of design but its simple yet sporty design is liked by many buyers. Unlike Linea, the SX4 is offered with front, rear and side skirting which make it look even more sporty.
Fiat Linea Exterior Dimensions
length: 4560 mm
width: 1730 mm
height: 1487 mm
wheelbase: 2603 mm
Maruti SX4 Diesel Dimension
Length = 4490 mm
Width = 1735mm
Height = 1550 mm
Wheelbase = 2500mm
Proportion wise the Linea is significantly longer while it's width is at par with SX4's width. Linea is a couple of centimeters shorter than SX4 meaning you will get more headroom in the latter and  In terms of wheelbase as well it is ahead of SX4. On a personal note I would love to go with the Linea as Fiat is any day better than Maruti in overall build quality.
2012 Fiat Linea Interiors Vs 2011 Maruti Suzuki SX4 Interiors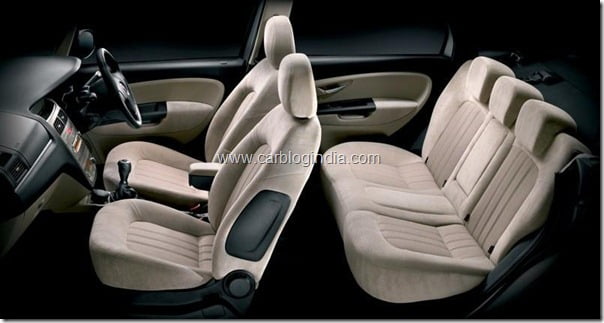 image- Fiat Linea Interiors
Linea has always been considered a complete package but there have been a couple of places where the previous model was disappointing. This time around, with the 2012 model, the company is offering a number of new features such as Integrated Audio System in all variants, Airbags, and BlueMe feature  in mid variants, Automatic Climate Control System, ABS and EBD, New Design alloy Wheels, Rain Sensing Wipers, Auto On/Off Headlamps, New Leather seats in top of the line diesel variants, New Chrome Interiors and 16 inch alloys in top of the line diesel variants , New Light beige interiors and seat fabric, New Dashboard and door trims, New Floor Carpets and Seatbelts, New Oceanic Blue Exterior Colour, Improved Air Conditioning, Power Windows with delay feature and Improved NVH for diesel models.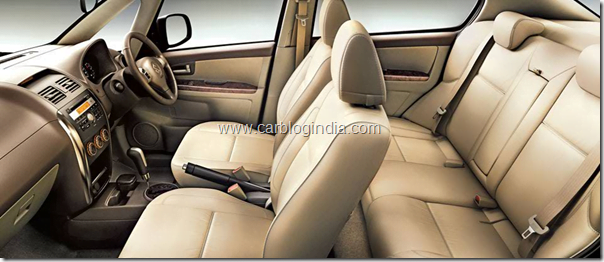 image – 2011 Maruti SX4 Interiors
The SX4 has been an all rounder and it definitely is up to date in terms of features which Is one of the reasons why people love this car. Ample amount of space is there and features include single zone climate control, rear centre arm rest, dual airbags, 3 point ELR seat belts and force limiters, height adjustable rear seat belts, iCATS, ABS EBD with brake assist, stereo remote, audio system with with 4 speakers and USB port, steering mounted audio controls and many more.
If you consider both, space and features, I would have to say the Linea is a more balanced car and the 2012 model certainly have the goods to back itself. So our choice is the Linea.
2012 Fiat Linea Diesel Engine Vs 2011 Maruti Suzuki SX4 Diesel Engine
2012 Fiat Linea Diesel Engine Specifications
1.3 Litre Advanced Multijet diesel engine
Displacement: 1248 CC
Max Power: 92 BHP @ 4000 RPM
Max Torque: 209 Nm @ 2000 RPM
Transmission: 5 speed manual
Kerb Weight: 1210 Kg
ARAi certified mileage of 20.4 KMPL
Power to weight ratio: 76 BHP/1000 Kg
Maruti SX4 Diesel Engine Specifications
Type: 16 Valve DOHC, DDiS
Displacement: 1248 CC
Maximum output: 89 BHP @ 4000 RPM
Maximum Torque: 200 Nm @ 1750 RPM
Transmission Options:- 5 Speed manual transmission
Kerb Weight: 1225 Kg VDi and 1245 Kg ZDi
ARAI certified mileage of 21.5 KMPL
Power to weight ratio: 72 BHP/1000 Kg
Both the cars have a 1.3 litre engine that delivers more or less the same power and torque, Linea has better power and torque figures though. Even in terms of fuel economy there is hardly any difference(just 1.1 KMPL). Considering the fact that Fiat is a huge supplier of quality engines to Maruti and many other companies rely on the same too, we would undoubtedly go with Fiat.
2012 Fiat Linea Diesel Performance & Handling Vs 2011 Maruti Suzuki SX4 Diesel Performance & Handling
Performance wise the Linea is amazing. Extremely comfortable and least turbo lag is what sets the Linea apart. The car is very smooth and handles quite well. The SX4 is an amazing to drive car, though it still has to go a long way in order to compete with a good Italian car.
2012 Fiat Linea Diesel Price Vs 2011 Maruti Suzuki SX4 Diesel Price
Fiat Linea 2012 price ex-showroom Delhi is as follows:
Fiat Linea 1.3 Diesel Active 2012 is priced at Rs. 7.84 Lakhs
Fiat Linea 1.3 Diesel Dynamic 2012 is priced at Rs. 8.84 Lakhs
Fiat Linea 1.3 Diesel Emotion 2012 is priced at Rs. 9.10 Lakhs
2011 Maruti Suzuki SX4 Diesel Price(ex-showroom Delhi)
MARUTI SX4 VDI: Rs. 8.03 Lakhs
MARUTI SX4 ZDI: Rs. 8.91 Lakhs
MARUTI SX4 ZDI, LEATHER: 9.25 Lakhs
Interesting in spite of being a better product overall, the Linea has been priced lower than the SX4. There is an appreciable Rs 20,000 difference between the base variants of the two and the price difference is maintained over the whole variant line-up.
2012 Fiat Linea Active Vs Maruti SX4 VDi
The Linea base lack all the safety features, fog lamps, interior colour tones, leather and chrome insert and many other essential features as well. The SX4 VDi has been priced 20 k dearer but gets extra features which well justifies the difference, though there are no safety features available. If you ask me i would love to go with the Linea Active for sure.
2012 Fiat Linea Dynamic Vs Maruti SX4 ZDi
However the story is quite different between the Linea Dynamic and SX4 ZDi. For just 5 k extra the SX4 seems to be a better choice as it offers all the features and does not lack any. The Linea Dynamic still lacks a couple of safety features, automatic climate control, steering mounted controls, leather inserts etc. So here the SX4 is a better choice.
2012 Fiat Linea Emotion Vs Maruti SX4 ZDi(Leather)
The Linea Emotion is the top end variant and is quipped with all the offered features. The ZDi Leather variant is meant for people looking for extra premium interiors having leather all over the cabin of the car. The VDi Leather is Rs. 15,000 dearer which according to me makes less sense. So once again I would go with the Linea.
Car Blog India Verdict – 2012 Fiat Linea Diesel Vs 2011 Maruti Suzuki SX4 Diesel
First of all CarblogIndia advices you to go and take a test drive of both the cars if you are considering buying one. Coming to our verdict now, Linea is a better car overall while the SX4 still has the charm to attract you since it is a Maruti product. Performance wise Linea is definitely more comfortable and has been priced right. Though you may wish to go with SX4 as servicing and spare parts would not be an issue with Maruti products but even Fiat is working hard  now and will soon establish a wider network. At the end I would like to say that for us Linea is better car over the SX4.
check out more-
Join us for FREE NEWS Updates on our Whatsapp Community or our official telegram channel.