Hero has launched the Destini 125 scooter in India. The prices of the scooter start from Rs 54,650 (ex-showroom prices). Most importantly, it misses out on the option of a front disc brake. Check out our Hero Destini 125 review. 
Hero Motocorp launched the Hero Destini 125 today. It is a plain-styled family scooter, which would not appeal much to the youngsters. The Destini 125 comes in LX and VX variants which are priced at Rs 54,650 and 57,500 respectively. At this price, Destini 125 is one of the cheapest 125cc scooters in India. We rode the Destini 125 today and it has a few good points and a few bad points. Mind you, these good points and bad points are very important for the scooter. Get all the details of the Destini 125 here. Check out our Hero Destini 125 review to know if it is worth your money.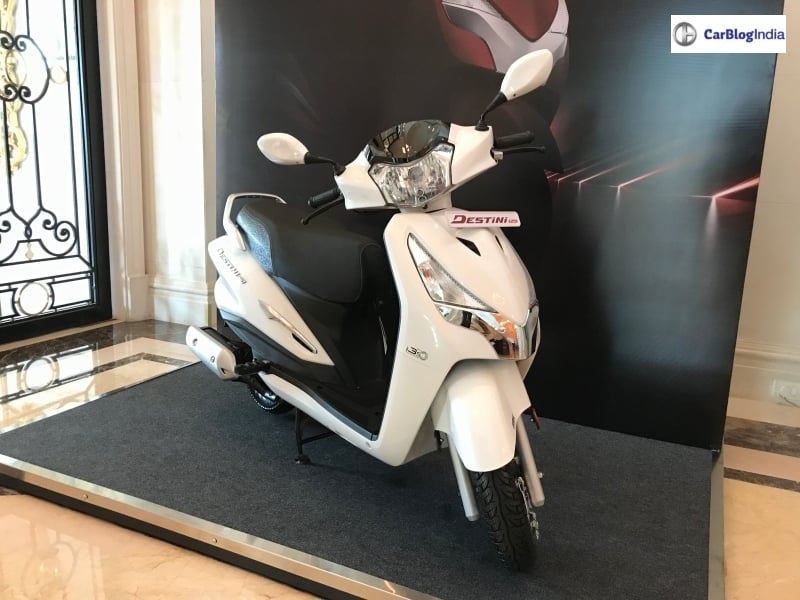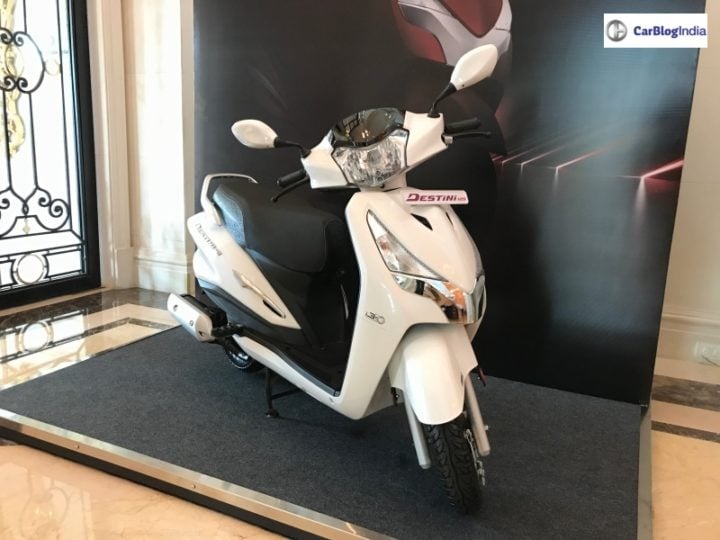 Hero Destini 125 review: Design and Styling
We all know, Access and Activa are traditionally styled successful scooters. Despite having simple looks, both are one of the best selling scooters in India. Here, Hero has also tried the same with Destini. The scooter actually looks an elder version of the Duet, of course with the distinctive black cast wheels.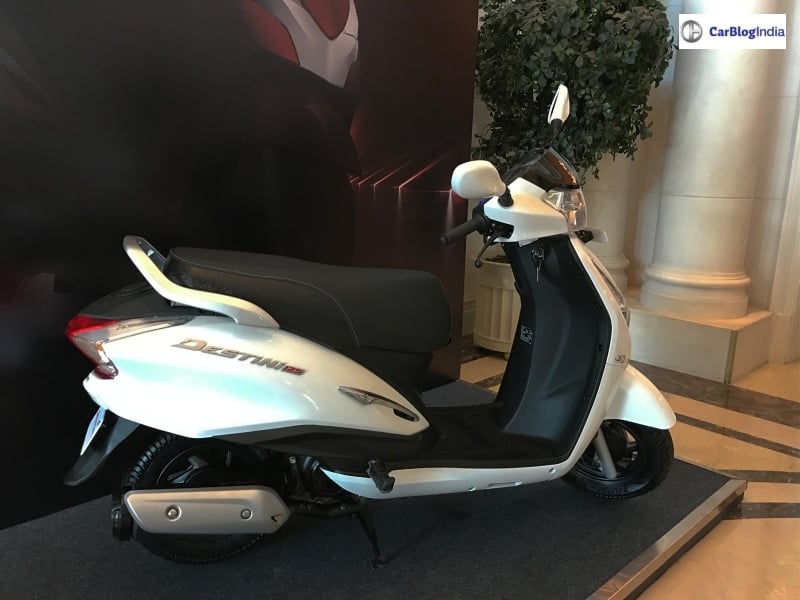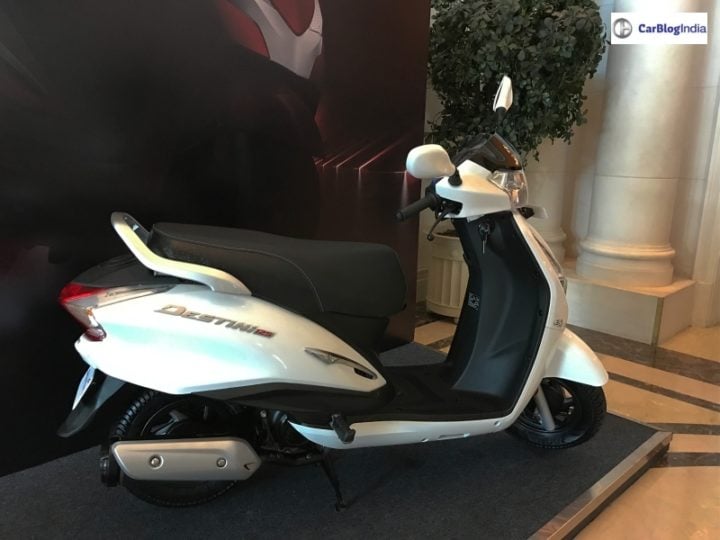 In the front, it gets All-time on headlamps flanked by body-coloured mirrors. The front fender gets faux air vents, turn indicators and chrome garnishing. The headlamps are not LED. It gets black cast aluminium wheels, whereas the LX variant gets steel silver wheels. At the side portion, you can again see chrome garnishing and 'Destini 125' written in chrome. At the rear, it gets huge tail lights flanked by indicators.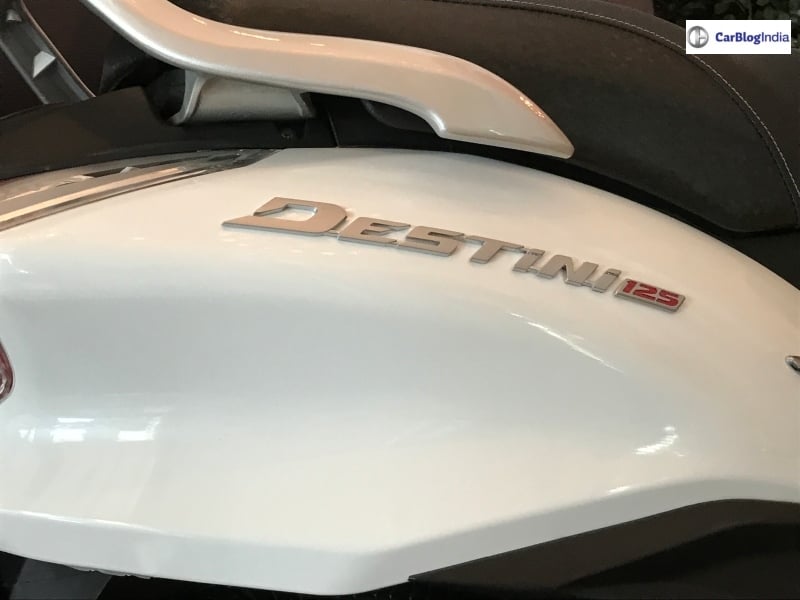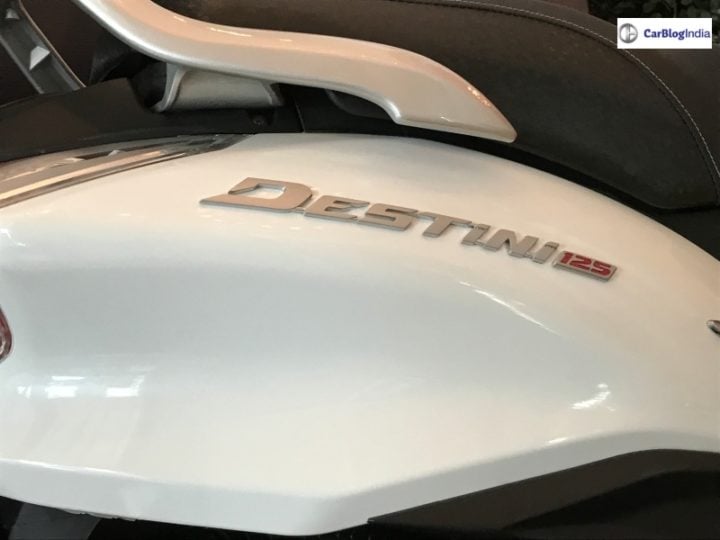 Overall, it possesses satisfactory charm and attraction. Since it is a family scooter just like the Activa 125 and Access, we cannot expect a youngster oriented design work. Many similarities to the Duet can now be noticed.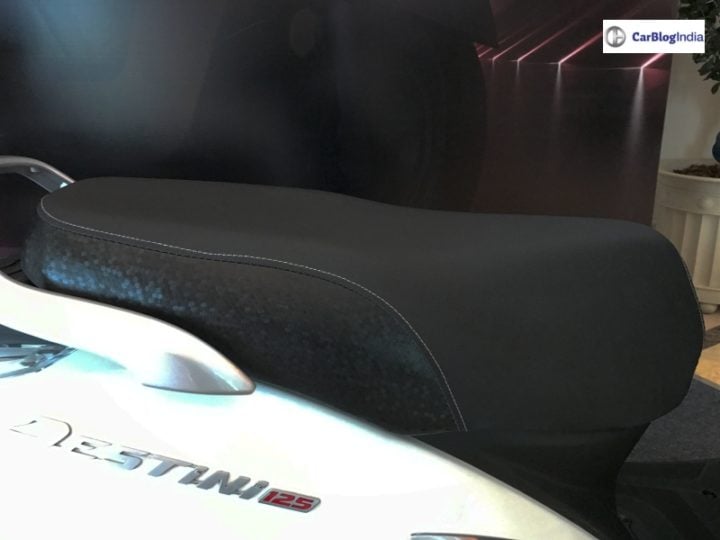 Hero Destini 125 review: Performance
The Destini 125 is a decent performer. Thanks to Hero's torque management system, the acceleration is linear and you cannot feel any jerk to it. It was perfectly balanced without any sudden rush of torque. As a result of this, the acceleration was not that peppy. It took its own time to reach high speed. The Destini is eager to provide comfortable ergonomics rather than its speeding ability.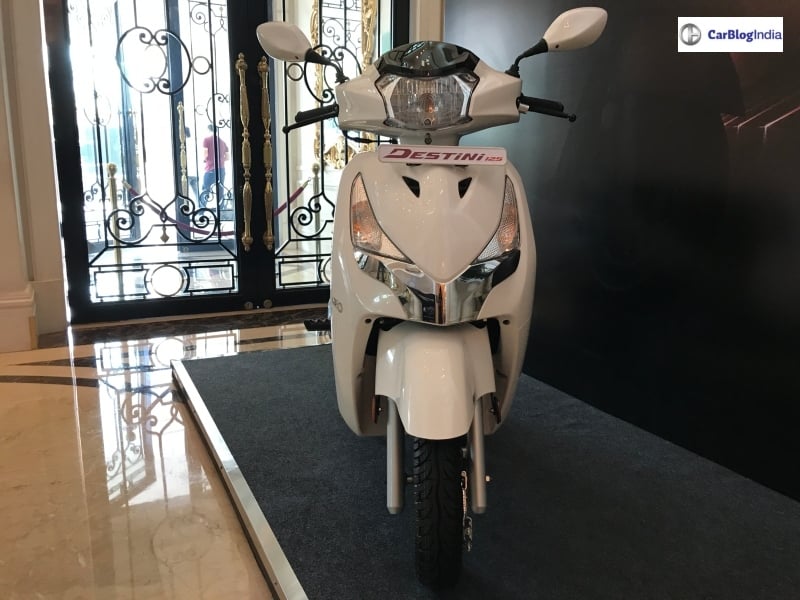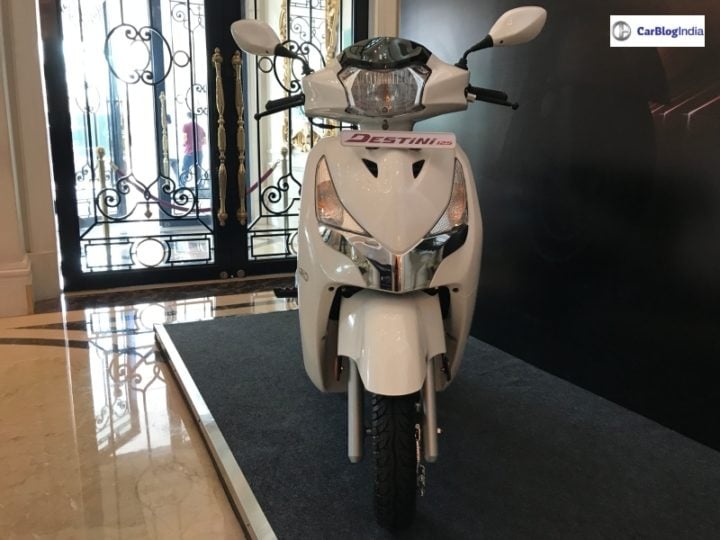 As I throttled above 50 km/hr, heavy vibrations were felt on the handlebar as well as the footrest. For a 125cc scooter, this experience is unexpected. The vibrations were quite high and they increased as the speed increases. The meat of this 125cc engines lies in-between the speeds of 75 km/h to 80 km/h. It is here that you feel a comparatively quicker response.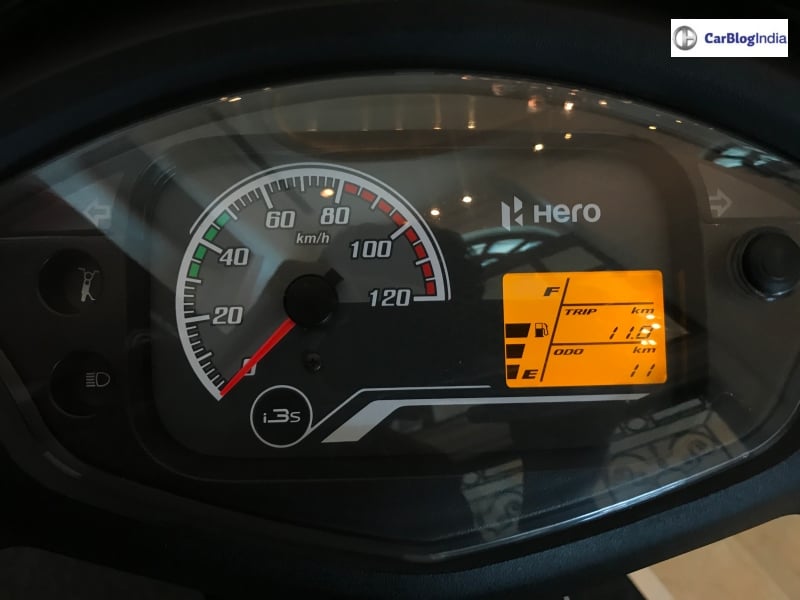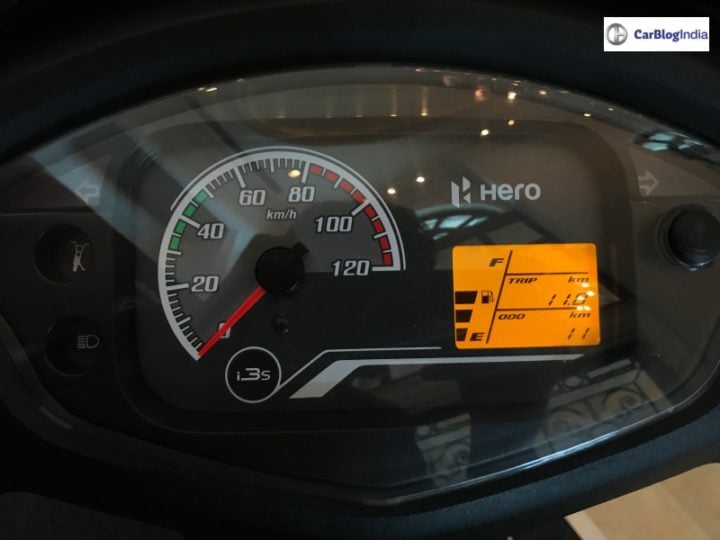 Despite heavy vibrations, the Destini 125 is quite stable. I could take it to 80 km/hr max. and it did not wobble at all. The weight of Destini 125 is 111 kgs, which is higher than its rivals but helps in keeping the scooter stable. While cornering at high speeds, the 10-inch tires were grippy and I could feel its good presence on road.
Let me tell you, IT DOES NOT OFFER DISC BRAKES! This is a shocking news because almost no 125cc scooter comes without a disc brake. The other 125cc scooter without a disc brake is Gusto 125. While Hero says the Integrated Braking System (IBS) is good enough for this scooter, I barely think so. The drum brakes were not that powerful and it took considerable meters before the scooter could stop from a speed of 60 km/hr.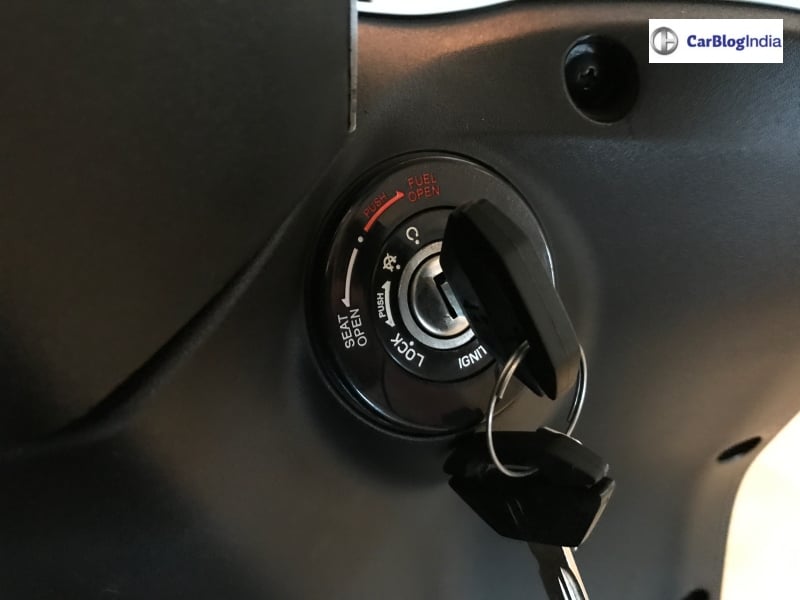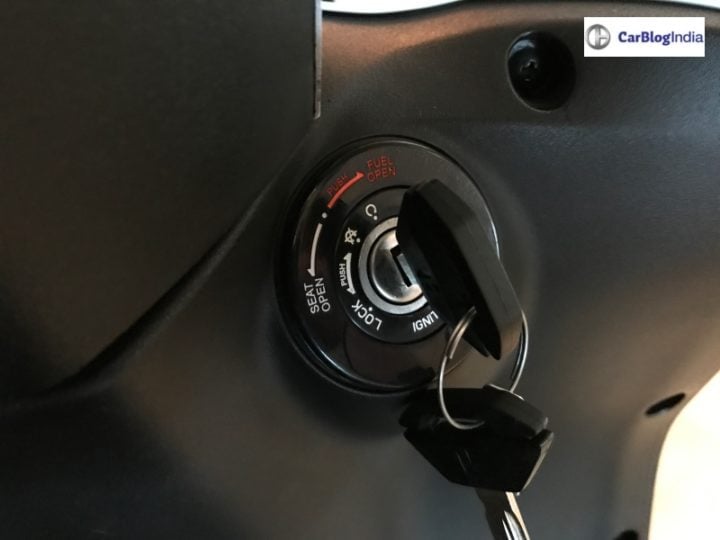 In the front, the Hero Destini 125 gets telescopic Hydraulic shock absorbers and Spring coil hydraulic units at the rear. Unfortunately (or maybe fortunately), we could not find any potholes or damaged roads over our test drive route. However, over speed breakers and small continuous speed breakers, the suspension felt good. It felt that the stiffness of the suspension was minimal, which turned out to be good.
Hero Destini 125 review: Engine Specifications
The Destini 125 comes with a 124.6cc air-cooled engine, which puts out 8.7 HP and 10.2 Nm. These figures are decent, but at the same was not felt when I rode the scooter. As I said, the engine is not peppy and it took me around 10 seconds roughly to sprint from 0-60 km/hr.
Now, the main highlight and the selling point of this scooter is the idle start-stop system. The Hero i3S system comes for the first time in a Hero scooter. Also, this system comes for the first time in any scooter. Let me tell you how the mechanism works.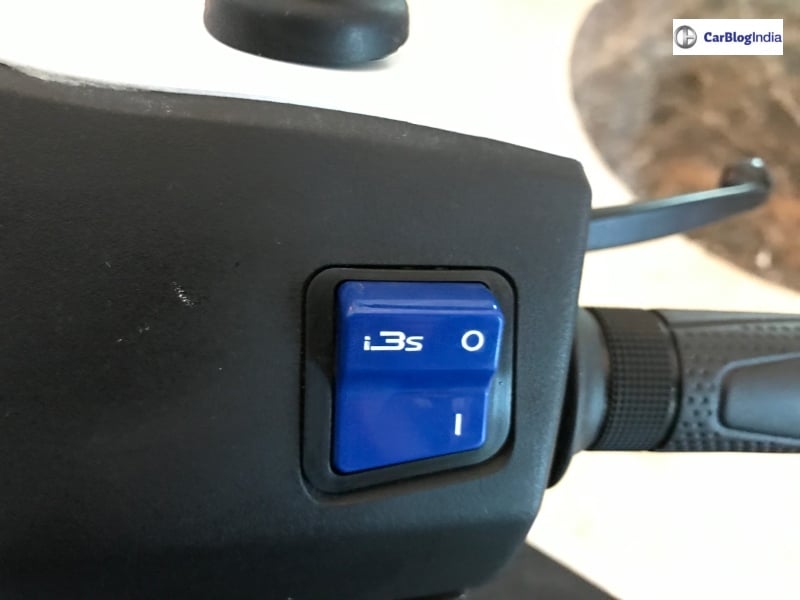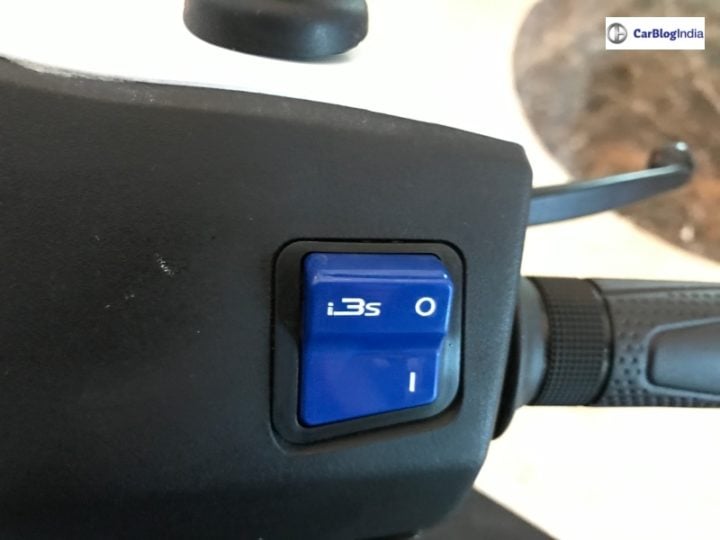 Whenever the engine of the scooter is idling either at a traffic jam or while waiting for someone, this technology automatically switches off the engine. With little acceleration and pressing of the brake, it switches on again. Hero claims that this technology will help the Destini deliver 10% more mileage than its competitors.
Hero Destini 125 review: Features
Another good thing about the Destini is its feature list. At an asking price of Rs 54,650 is offers premium features. The list goes on as follows:
Side stand indicator
Service due reminder
Digi-analog instrument cluster
i3S technology
Mobile Charging port in the boot
Boot lamp
Central key opening (Seat Unlock and fuel cap opener)
External fuel filler cap
Metal body
Aluminium cast wheels (VX Variant)
However, it misses out on LED headlamps, LED tail lights and a necessary front disc brake. These are very important features and are found in most of the 125cc scooters.
Hero Destini 125 review: Price and Competition
The Hero scooter comes in LX and VX variants, which are priced at Rs 54,650 and Rs 57,500 (respectively). At these prices, Destini 125 is cheaper than Access by around Rs 2,000 and cheaper than Activa 125 by almost Rs 5,000. The Gusto 125 has the lowest price at Rs 51,130, but the Destini at this price does quite well in terms of performance as well as features.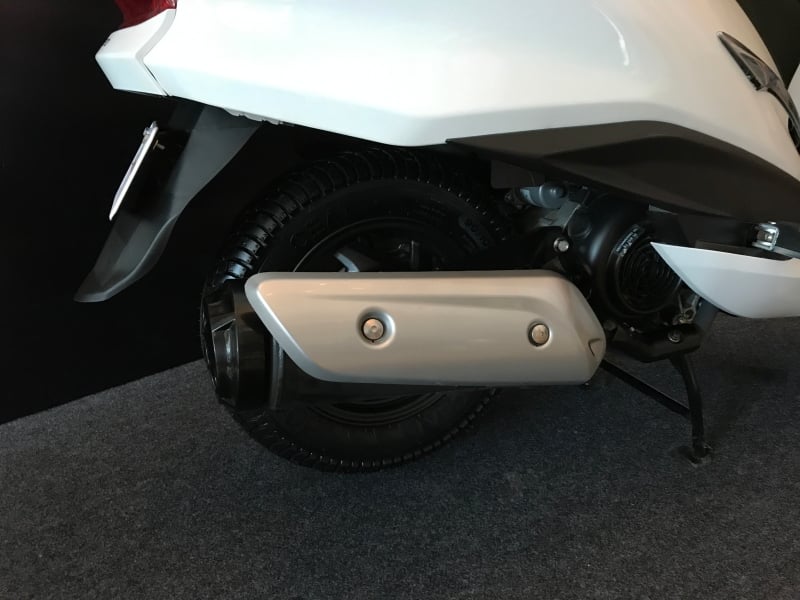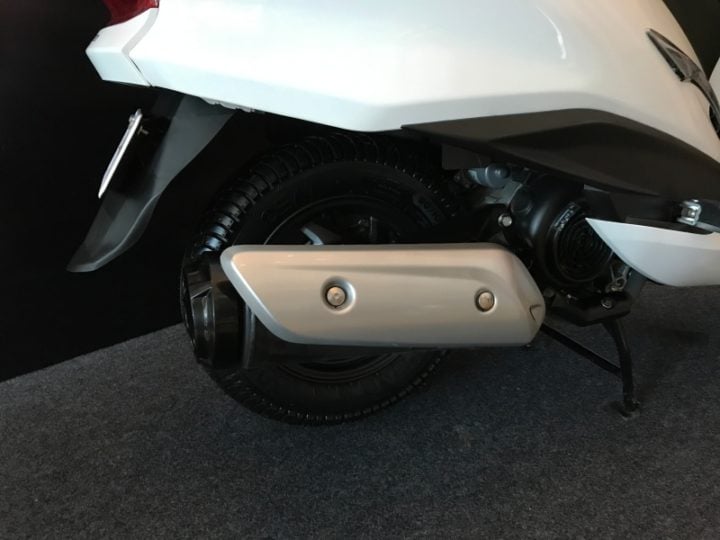 Hero Destini 125 review: Verdict
People buy 125cc scooters for more power and better features than the 110cc scooters. Here, the Destini 125 just manages to touch both the points. If Hero could add a front disc brake, it would add up to the selling points of the scooter. Overall, the scooter has the juice for its targeted audience but falls short of many points for a younger generation. The design may not be classiest of all, but it does a satisfactory work in terms of performance, design, comfort and as well as features.
We could not spend much time with the scooter, so as of now these were our first ride impressions. Based on our first brief ride, we can say that it is not the best 125cc scooter amongst its rivals, but is also not the worst. Buyers who are on a budget and are looking for more power than a 110cc scooter can consider the Hero Destini 125.
Join us for FREE NEWS Updates on our Whatsapp Community or our official telegram channel.