The 
new 2017 Jeep Compass
is now available for purchase in India. Prices of the cheapest Jeep SUV in India start from Rs. 14.95 Lakh, which means the Compass rivals everything from the entry-level models of
Ford Endeavour
and
Toyota Fortuner
to models like the
Hyundai Tucson
and 
Volkswagen Tiguan
. Regulars here would know we have already compared the
Jeep Compass and the Toyota Fortuner
. Now, on this page here, we compare the new 2017 Jeep Compass with the new generation of Ford Endeavour (aka Everest). So read on for our Jeep Compass vs Ford Endeavour comparison.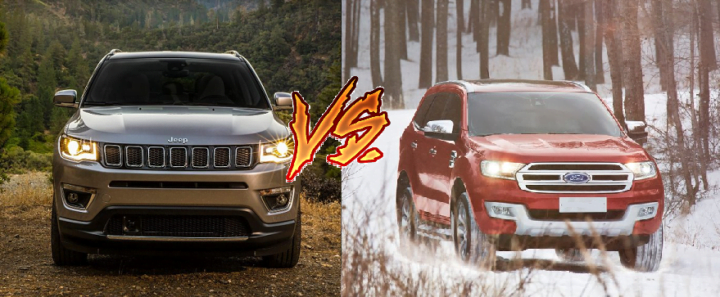 Regulars here are likely to know our fondness for the latest Endeavour. On comparison with the last generation model, the new Endeavour is a really huge improvement. On sale with a really competitive price tag, long features list, powerful engines and a cabin befitting of a car from half a segment higher, the new Endeavour has a lot going for it. Let's see how the Compass stacks up against it, even though there there is no price overlap between the two cars.
Also See- Jeep Compass vs Volkswagen Tiguan | Jeep Compass vs Hyundai Tucson | Jeep Compass vs Mahindra XUV500
Jeep Compass vs Ford Endeavour Price Comparison
| | |
| --- | --- |
| Jeep Compass Price | Rs 14.95 Lakh to Rs 20.65 Lakh |
| Ford Endeavour Price | Rs 23.91 Lakh to Rs 29.59 Lakh |
all prices ex-showroom
Like we said, the Compass and Endeavour won't be direct rivals as the base model of Compass is much cheaper than the base model of Endeavour. There is no price overlap in this case either. In this comparison, this is a big win for the Compass over the Endeavour.
Also See- Ford Endeavour vs Toyota Fortuner | Jeep Compass vs Hyundai Creta
Jeep Compass vs Ford Endeavour Specifications Comparison
| | | |
| --- | --- | --- |
| Specifications | Jeep Compass | Ford Endeavour |
| Engine | 1.4 L Petrol/2.0 L Multijet II Diesel | 2.2 L Diesel/3.2 L Diesel |
| Max Power | 160 BHP/170 BHP | 158 BHP/197 BHP |
| Peak Torque | 250 Nm/350 Nm | 385 Nm/470 Nm |
| Transmission | 6-speed Manual & 7-speed Automatic/6-speed Manual | 6 Speed Manual & 6 Speed Automatic/6 Speed Manual & 6 Speed Automatic |
| Drivetrain | FWD/AWD | FWD/AWD |
While the new Jeep Compass will offer a 1.4 L Petrol and a 2.0 Turbo Diesel motor, the Endeavour is available only with 2.2 L Turbo Diesel and 3.2 L Turbo Diesel engines. Hence, one advantage the Compass clearly has is the availability of a Petrol engine option. Secondly, the price positioning of the Compass will be such that it is likely to rival only the 2.2 L variants of the Endy. This means the more Endeavour, which comes with a stonker of a Diesel heart, won't affect the Compass due to its much higher price tag. However, even on comparison of base Endy and Compass Diesel, the former has a clear advantage in terms of specifications. Real world performance might be closely matched thou, which will be because of the Jeep's lower kerb weight. 

Also See- Jeep Compass Diesel Automatic India Launch | Ford Endeavour Review
Jeep Compass vs Ford Endeavour Mileage Comparison
| | | |
| --- | --- | --- |
| Car | Mileage (petrol) | Mileage (diesel) |
| Ford Endeavour | N/A | 12.62 KMPL (4×2)/10.91 KMPL (4×4) (ARAI) |
| Jeep Compass | 12-13 KMPL (estimated) | 17.1 KMPL (4×2)/16.3 KMPL (4×4) (ARAI) |
Since the Endeavour does not get a petrol engine, it does not compare with petrol Compass. It is the diesel Endeavour's mileage you should care about here, which comes equipped with torque converter automatic gearbox. Neither comes closer to the Compass' diesel engine which, mated to a 6-speed manual, has fuel economy figures of 16.3 KMPL in 4×4 trim as against Endeavour's 10.91 KMPL. In the 4×2 version, the diesel Compass has 17.1 KMPL mileage as opposed to Endeavour's 12.62 KMPL. However, the important bit to note here is that firstly, the Endeavour has more powerful engines than the Compass. Also, the Endeavour is quite a bit bigger than the Compass, which also hurts its mileage.
Jeep Compass vs Ford Endeavour Dimensions Comparison
| | | |
| --- | --- | --- |
| Dimensions | Jeep Compass | Ford Endeavour |
| Length | 4,420 mm | 4,893 mm |
| Width | 1,820 mm | 1,862 mm |
| Height | 1,650 mm | 1,836 mm |
| Wheelbase | 2,640 mm | 2,850 mm |
| Ground Clearance | 178 mm | 225 mm |
As is evident from this comparison here, the Endeavour is huge if you compare it with the Compass. No wonder then, that, the Compass ends up being smaller even on the inside. Also, compared to the 5 seats offered by the Compass, the Endeavour offers 7 seats. Also, its ground clearance of 225 mm is much more than the 178 mm offered by the Jeep Compass. The Endeavour enjoys a really high road presence.

---
Jeep Compass vs Ford Endeavour Design Comparison
On comparison of the design of these two models, the difference between the two gets all the more apparent. While the Endeavour is a true blue SUV, the Compass is a lot more crossover-ish than a typical SUV. Thanks to a really butch exterior, the Endeavour enjoys a really high road presence. In comparison, the Compass looks a lot smaller but definitely has a sportier edge to it. That said, all thanks to a really powerful stance and a bold exterior, the Endeavour enjoys a great road presence.

Much of the same can be said about the interior. The interiors of these two SUVs are reflections of the exterior. Among these two, the Compass has a sportier-looking cabin. The Endeavour, on the other hand, uses clean surfaces and high quality materials to give you an impression of premium-ness. Equipment levels, in terms of comfort features, will be more or less the same for both the SUVs. However, one huge drawback for the Compass is that it offers just 5 seats. In comparison, the Endeavour can seat upto 7 passengers.
Jeep Compass vs Ford Endeavour Comparison Verdict
Price: The Compass is quite a bit cheaper than the Endeavour. There is a close to Rs 3 lakh gap in the pricing of top-trim Compass as against that of base-trim Endeavour, favouring the Jeep.
Specifications: There's no petrol engine option on the Endeavour. Even the 2.2 L motor of the Endy is a lot more powerful than the 2.0 L unit in the Compass. However, performance difference should be negligible owing to lower kerb weight of the Jeep SUV.
Mileage: The Compass has a clear advantage here.
Dimensions: The Ford Endeavour is much larger.
Design: While the Endeavour looks really butch and enjoys a high road presence, the Compass, with its crossover-ish look, has a sporty edge to it.
VERDICT: Of course, we always knew the two models here are poles apart in most areas. While the Jeep SUV here won't lag behind in areas such as performance and should even offer a higher mileage, the Endeavour offers you a larger cabin and more seats. And then, there's the high street presence the Endy enjoys. Even the base Endeavour offers a considerably long list of features, which means it should get tough for the Compass to justify the premium price tag. Unless you are in the market to buy a seven-seater SUV, in which Endreavour will be your pick, the Compass thumps the Ford due to its aggressive pricing and a corresponding long list of features.
Stay tuned to Car Blog India for more comparisons like the new 2017 Jeep Compass vs Ford Endeavour post we have here.
Editor Rating

Rated 5 stars

Spectacular
---
Jeep Compass vs Ford Endeavour Comparison

Reviewed by:

Published on:

Last modified:
---