Check out this top speed drag race between Kawasaki Ninja 300 and KTM RC390 and see the unexpected winner of this race.
There are very fully faired motorcycles found under a budget of Rs 3 Lakhs, which include Kawasaki Ninja 300 and KTM RC390 as the best ones. Both of them have the same fairing but still are a lot different in terms of riding and performance. Here is a drag race video between both the motorcycles to see which one is faster.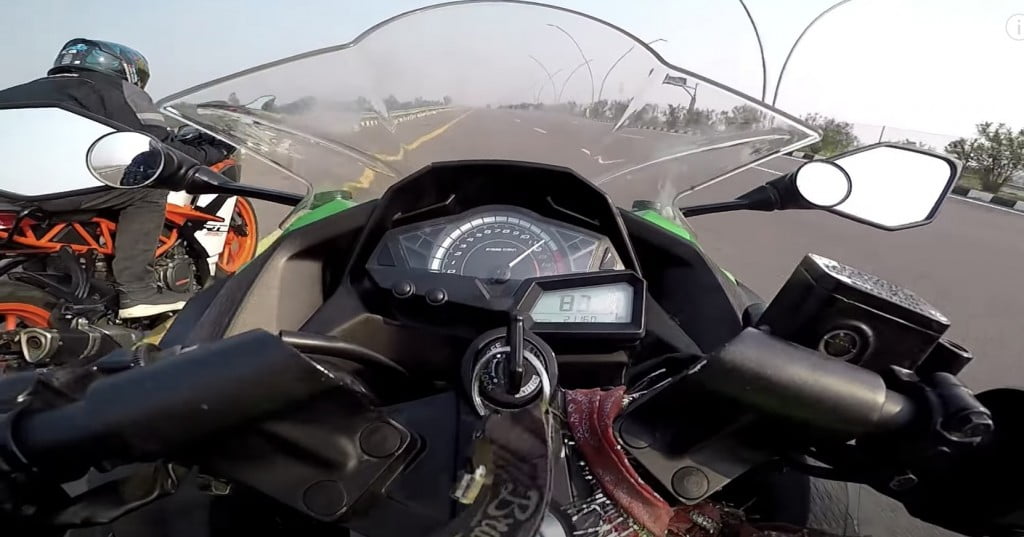 Kawasaki Ninja 300 gets a twin-cylinder engine while the KTM RC390 gets a much more powerful single-cylinder engine. As the race starts, we can see the KTM RC390 taking lead very quickly. That is due to its low-end torque and lighter weight, it manages to take off from the starting line very swiftly.
Also Read: Bajaj Dominar 400 Vs KTM Duke 390 Vs BMW G310 R – Drag Race Video
For a good couple of minutes, KTM RC390 manages to maintain its lead indicating that it will be the winner. However, as the bikes start reaching towards the red line, Ninja starts gaining pace. After speeds of 160 km/hr, Ninja starts moving ahead and in no time, moves ahead of the RC390.
Both of them try to maintain the close cut competition, but in the end, Ninja 300 becomes the winner of the drag race. The top speed recorded on the Ninja is more than 180 km/hr while the RC390 goes up to 175 km/hr. Also if noticed, you can pull up to 11000 RPM on the Ninja but on the other one, it goes only up to 9000 RPM.
RC390 gets a 373cc single-cylinder liquid-cooled engine that produces 43.5 PS and 36 Nm of peak torque. Ninja gets a smaller twin-cylinder 296cc liquid-cooled engine that produces 39 PS and 27 Nm of peak torque. The torque and power gap is huge between both of them, but the additional cylinder with Ninja helps it in achieving higher top speed.
Join us for FREE NEWS Updates on our Whatsapp Community or our official telegram channel.