Imported cars used to be very popular in India. Now, a trucker has imported a Kenworth truck (worth Rs 2.5 Crore) from America.
As more and more international brands are coming to India, imported cars have become a rarity. While you can still get an imported vehicle to India, the required permissions and high tax rates are not really worth it. However, such things have never stopped automobile enthusiasts from getting their hands on their dream vehicles. Now, a trucker from Gujarat has gone out of his way to get an American truck. The huge truck is said to cost Rs 2.5 Crore (plus expenses). Now you can spot a Kenworth American truck on Indian roads
You May Also Like: Mega Trucks Carry Reactors Weighing 1908000 KG Through India
You May Also Like: 3 Volvo FM400 Trucks Rescue 200 Ton Transformer
As you can see in the video above, the Kenworth (most likely T880) truck looks insane, especially on an Indian road. We can witness this rare sight thanks to a trucker from Gujarat who really wanted to own an American truck. This Kenworth truck from America cam with a price tag of Rs 2.5 Crores. Additionally, they had to pay Rs 30 lakhs as import duty and road tax. Since the left-hand drive vehicle is not ideal for Indian drivers, an American driver has also been "imported". To drive the massive truck, he gets Rs 1 lakh per month.
The Kenworth American Truck looks very different from Indian trucks. It comes with many additional functions than a standard Indian truck. There is even a computer with multiple screens and buttons to help in daily tasks. Additionally, there is a bed for the driver to rest in. The Left Hand Drive vehicle also requires special permission to legally run on Indian roads. The new truck is getting a lot of attention. However, it is not the only American truck in India. Many enthusiasts have brought modern American trucks to India.
You May Also Like: Here's a Chance to Buy James Bond's Aston Martin DB5 From 'No Time to Die'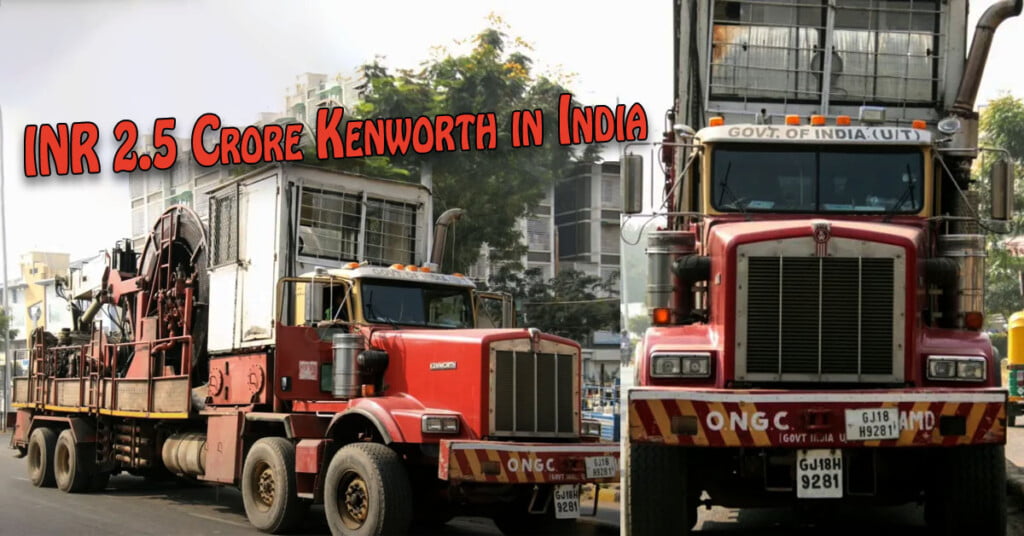 You May Also Like: Delhi Police New Traffic Advisory Is Inspired By Our Trucks
T880 Kenworth Truck Specifications
American trucks usually have huge cabins and are ideal to travel long distances. In addition to carrying big payloads, they offer many comfort features and spacious cabin room for drivers. In terms of fuel efficiency, they usually come with an average mileage of 7 miles per gallon. The T880 Kenworth Truck is powered by a 12.9 liter MX 13 engine that produces 405-510 hp of power and 1966 – 2500 Nm of torque. It is paired to TX-18 series transmission which is rear-wheel driven. The average lifespan of a Kenworth truck is at least two decades.
Join us for FREE NEWS Updates on our Whatsapp Community or our official telegram channel.