Customers are baffled as the bookings for Mahindra XUV700's are getting canceled automatically, after a long wait for delivery.
The Mahindra XUV700 has been a runaway success and received a great response when the bookings opened. However, the waiting period for this SUV lasted for several months. Last month, several customers faced problems in delivery because of the prioritization set by Mahindra XUV700's external vendor. Now, many new cases have emerged where bookings are automatically getting canceled. Several users are getting random texts saying they have received a refund of the booking amount. As you can see below, Rs 21,000 refund has been sent by the company on December 1, without any other communication.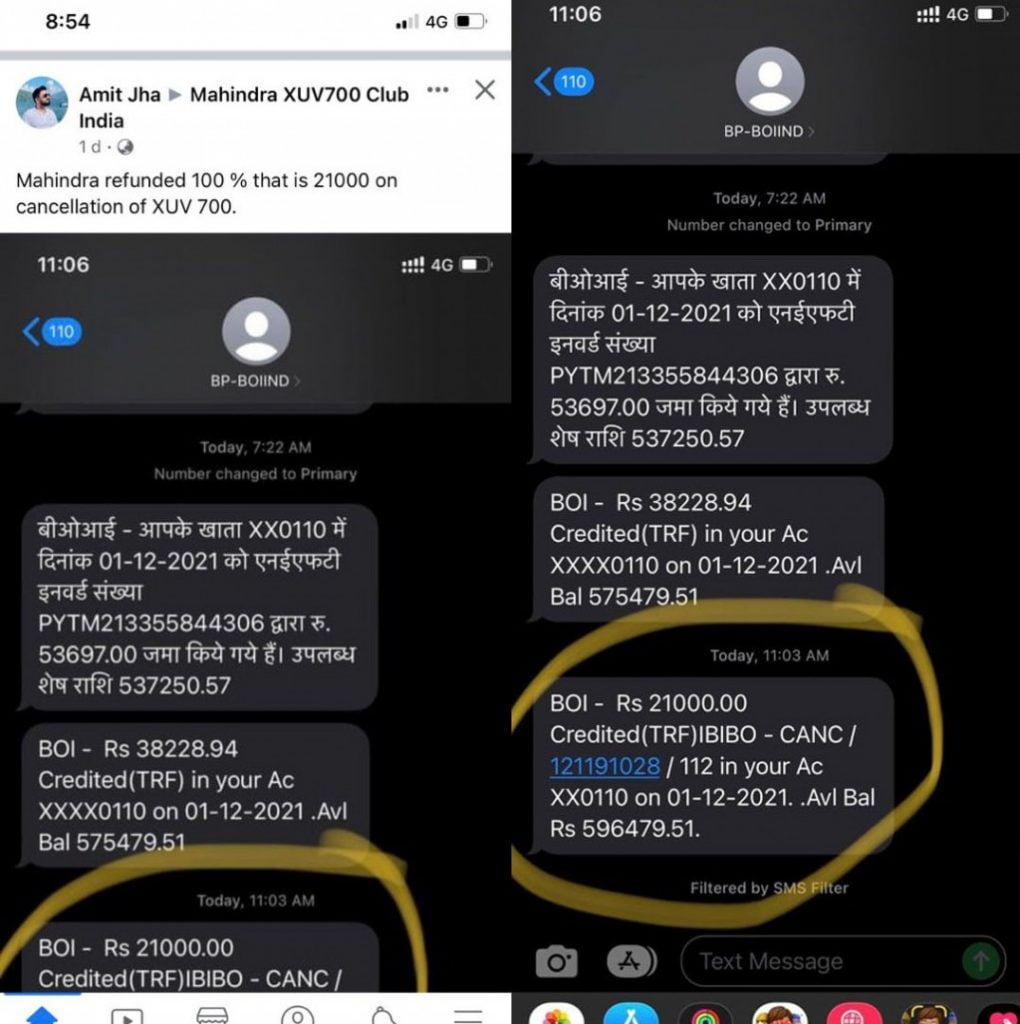 Also read: UNFAIR Delivery Process of Mahindra XUV700 Leads to Booking Cancellations
Since the bookings opened on October 7, Mahindra is said to have received around 65,000 bookings in the first two weeks alone. Unfortunately, the delivery timelines have been proving challenging for the company. Initially, Mahindra planned to start deliveries of the petrol variant from October 30 and the diesel variant by the last week of November. However, there were issues with the management of bookings at dealer counters and online. Now, it seems like the company has given up on the waiting period because of more orders piling up during the recent festive season.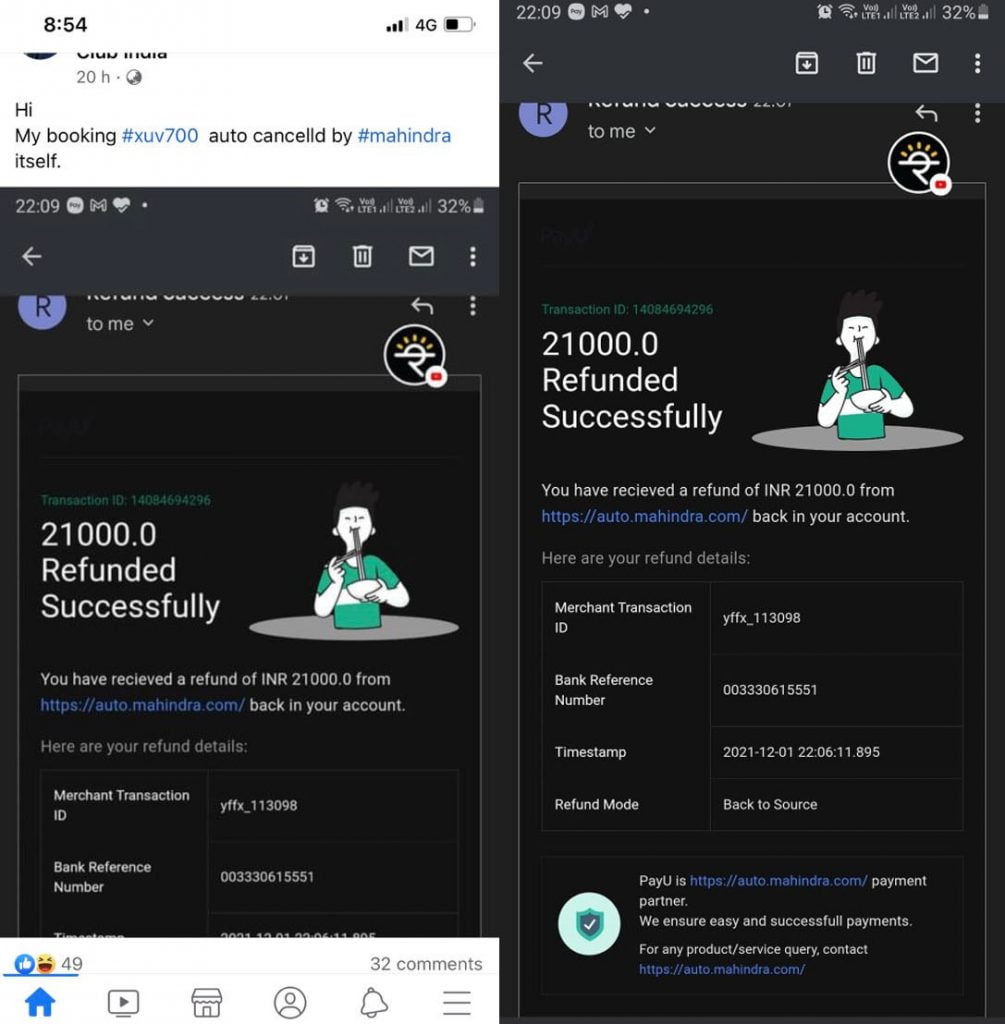 Also read: Order Mahindra XUV700 Now, Get Delivery in Mid-2023!
Mahindra needs to quickly sort out the factors affecting its delivery timelines. While there's trust in the brand and quality of the new SUV, it will not survive such issues for long. Recently, Mahindra announced that it has partnered with a global consultancy firm to streamline the delivery process. It announced that the company plans to devise and implement an algorithm-based process. The process still seems to be ineffective. While customers waited as Mahindra worked out the production and delivery issues, the company itself has given up and started refunds. This is not a good look for a popular brand.
Also read: Here Are Some Reasons to NOT Buy Mahindra XUV700!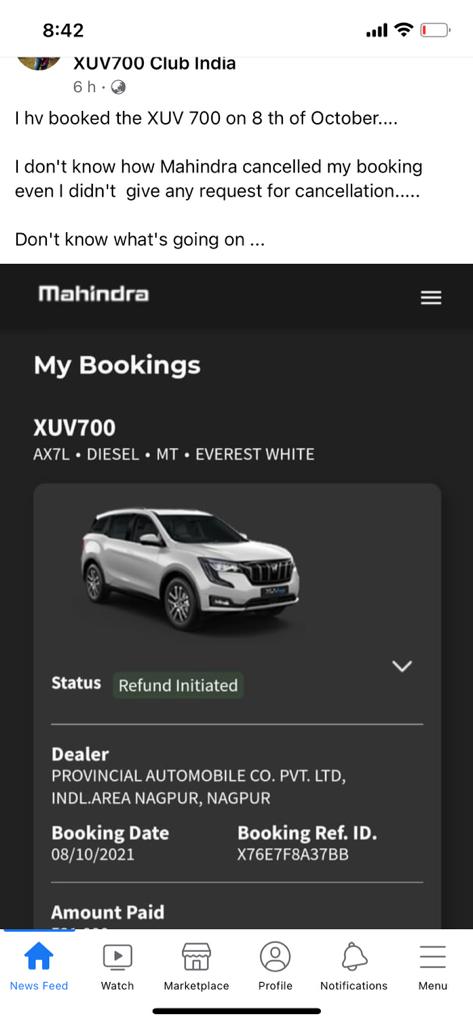 Also read: Watch Why This Tata Safari Owner Didn't Buy The Mahindra XUV700!
Since its launch, the Mahindra XUV700 has become the highlight in the company's product portfolio. It comes with many first-in-class features like Smart Door Handles, built-in Alexa integration, Intelligence AdrenoX, and a 3D Sound System with 12 speakers. Both the Mahindra XUV700 MX and AX (i.e., AdrenoX) come in diesel and gasoline variants with manual and automatic options, and with 5 and 7-Seater capacity. There is also an optional All-Wheel- Drive (AWD) spec.
Also read: Man Gets Delivery Date Confirmation For Mahindra XUV700 Even Without Booking The SUV
Join our official telegram channel for free latest updates and follow us on Google News here.