It is simply unbelievable what people do at times and this latest incident certainly qualifies as one such case.
In this video, a man decided to buy a TVS Jupiter scooter using just Rs 10 coins. Yes, you heard that right! Jupiter is one of the most popular scooters in the county. Its stylish exterior, capable engine and practical features at affordable prices are what make the entire proposition so appealing to the public. However, the mode of payment for this popular and common scooter is not that common in this case. Here are the details of this bizarre incident.
You may also like: Man Buys Rs 12 Lakh Mahindra Bolero Using Only Re 1 Coins
You may also like: Small Town Man Buys Suzuki Scooter Worth Lakh Using Sack Full of Coins
Man Buys TVS Jupiter with Rs 10 Coins
This video has been shared by TOI Auto on YouTube. As per the information from the video, a man from Rudrapur in Uttarakhand decided to buy Jupiter using Rs 10 coins. He paid Rs 50,000 for the scooter with the coins which is seen in the video clip. Needless to say, the video is doing rounds on the internet. In the visuals, the dealership staff is seen undertaking the arduous task of counting all the coins which are placed on the table. The scooter owner is seen waiting for the procedure to end so that he could take the scooter home.
You may also like: WATCH Unboxing of CNG Kit for Honda Activa and TVS Jupiter
Not The First Time
Regardless of how bizarre this incident might first appear, it has happened multiple times before. We have reported one such incident before where a person bought a Mahindra Bolero using Re 1 coins. Understandably, they show up at the showroom with sacks full of coins that takes forever for the dealership staff to count. Some of these instances are a part of a prank video by popular YouTubers to gain subscribers, while others are genuine cases where the person has saved coins for years which they use for the down payment. What are your thoughts on the matter?
You may also like: Inappropriate No. Plate of TVS Jupiter Leads to Major Embarrassment for Woman Rider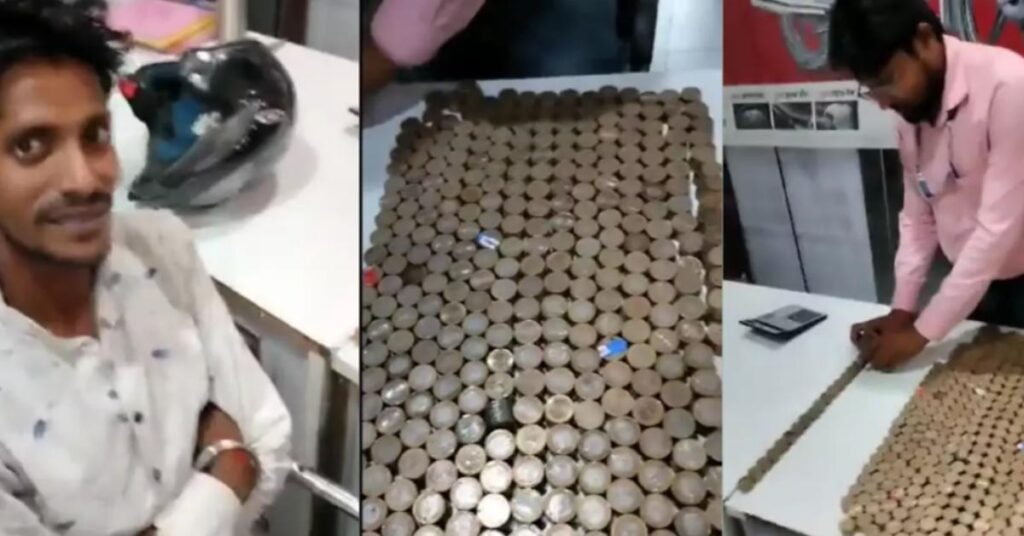 Disclaimer- The embedded videos/ external content is/are being used as a convenience and for informational purposes only; they do not constitute an endorsement or approval by Car Blog India of any of the products, services, and /or opinions of the corporation or organization or individual. Car Blog India bears no responsibility for the accuracy, legality, and/or content of the external site or for that of subsequent external videos/ external content. Contact the external publisher for answers to questions regarding its content.
Join our official telegram channel for free latest updates and follow us on Google News here.