In a bid to beat the astronomical fuel prices, people are beginning to look for alternative powertrain options. CNG emerges as a viable solution, at least in the big cities.
Here is a video of an aftermarket CNG kit that could be installed on Honda Activa and TVS Jupiter scooters. Arguably the most popular scooters in the country, this CNG kit can enhance the usage of these scooters even beyond their regular lifetimes. The rising fuel prices and stringent emission norms are forcing people to look for alternatives. Since the EV market is not widespread yet, aftermarket CNG kits are the only option that scooty owners are left with.
You may also like: WATCH Honda Activa Hybrid Kit Installation and Ride Impression
You may also like: Viral Video Shows 6 Boys Riding 1 Honda Activa!
Aftermarket CNG Kits For Honda Activa & TVS Jupiter
The famous YouTuber has uploaded an unboxing video where he takes us through the components required for turning your regular scooter into a CNG product. The most important aspect of this kit is the fact that it is RTO-approved. One could easily add it to the RC of the scooter. Therefore, the concerns regarding the legality of installing this kit have been addressed. The kit includes a few high pressure and low-pressure pipes, pumps, brackets for holding the cylinders in places, regulators, switches, nuts and bolts, etc for the installation process. The two cylinders are placed at the front of the scooter.
You may also like: Honda Activa 5G vs Ola S1 Pro – Petrol vs Electric Drag Race
In the second part of the video, the YouTuber shows the installation process. The front panel of the scooter is removed and the cylinders are placed neatly there. To cover it up adequately, a custom cover has been designed and bolted into place. After the installation, the scooters have the ability to be driven either on CNG or petrol making it a hybrid. The capacity of the two cylinders is 1.8 kg (900 g each). The YouTuber goes to the CNG fuelling station and gets 1.4 kg of CNG at around Rs 62. Mind you, this video has been recorded some time ago and the prices could vary now.
You may also like: Honda Activa 7G About to Launch? – Myth Busted!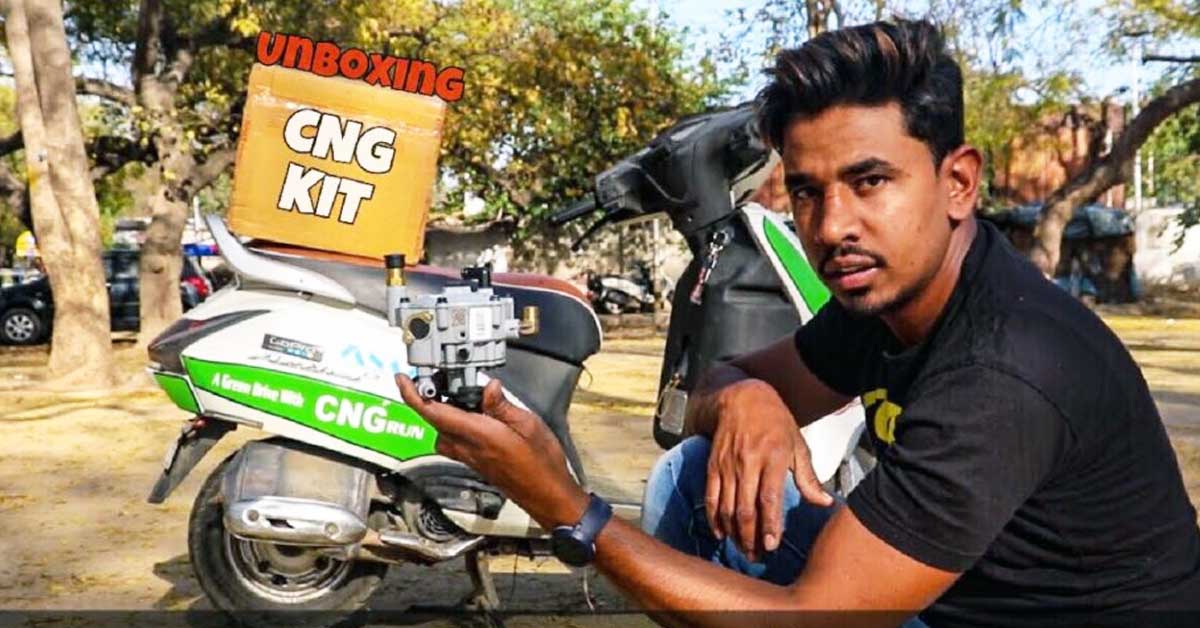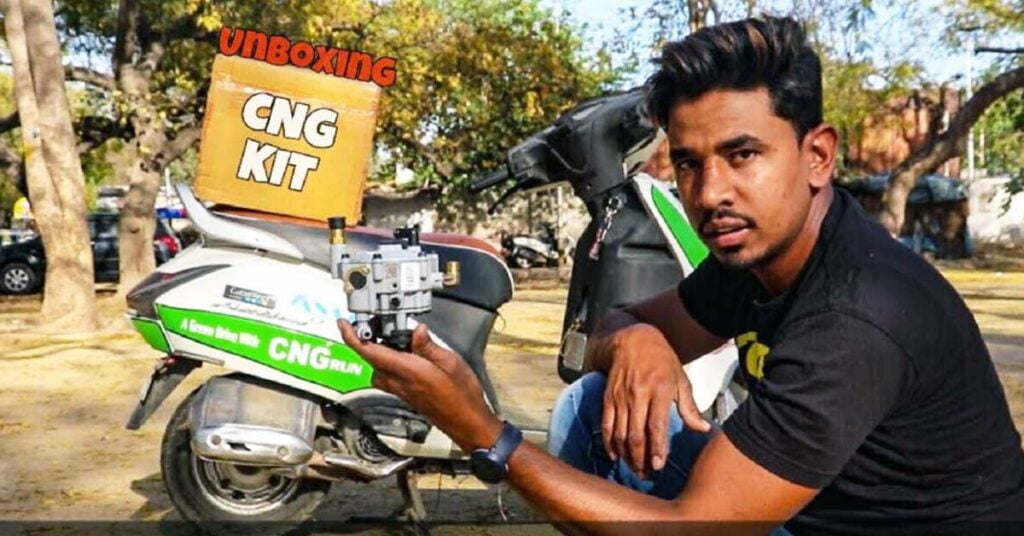 Nevertheless, the running cost for around 120-130 km with the CNG kit comes out to be around Rs 0.50 per km compared to around Rs 2 per km for the petrol. Granted, the power output with using CNG decreases slightly, but it is a trade-off that one is willing to make in exchange for so much fuel and money savings. If you want to install this kit in the aftermarket, make sure to visit only the government-approved shops and get the RC of your scooter updated. How did you like this video of the CNG kit for scooters like the Activa and Jupiter?