Off-roading vehicles need to be capable when it comes to adventurous performance where there is no traction.
This video captures a bunch of Mahindra Thar SUVs and a 19-year-old Maruti Gypsy drifting in an off-road environment. The YouTuber is popular for creating content around off-roading SUVs. He, along with his friends, often go off-roading in big SUVs and perform various tasks. The aim is to have fun and test the capabilities of these vehicles. This time around, he takes his Gypsy along with a few Thars of his friends to an off-roading location and performs drifts.
You may also like: 5-Door Mahindra Thar Spied, Looks Really Long
You may also like: India's First Dancing Mahindra Thar, Applauded by Media
Gypsy and Thar Drifting in Off-Road
The group arrives at a location where the river is not that high. There is a huge open landscape around the river. The river bed is quite broad and offers a ton of adventurous opportunities. Taking advantage of the topography, the group indulges in river crossing activities. In addition to that, the Thar owners decide to have a face-off in terms of drifting. Now, drifting cars on off-road surfaces is not easy because the traction is limited. Also, there could be a ton of obstacles on the surface that can cause damage to the tyres of the SUVs.
You may also like: WATCH Mahindra Thar Drifting With 8 People Topple Over
Nevertheless, these are experienced car owners who often undertake these tasks. That is the reason why the drifts performed by them are so smooth and professional. All Thar owners complete drifts successfully without any issues with the vehicles. It must be noted that they do these stunts in isolated locations. Also, they have recovery vehicles with them in case they get stuck somewhere. In fact, they do get stuck from time to time. That is why you must not try to imitate them because these stunts could prove to be quite dangerous.
You may also like: After Mahindra Thar, Maruti Gypsy Tows 7,500 kg JCB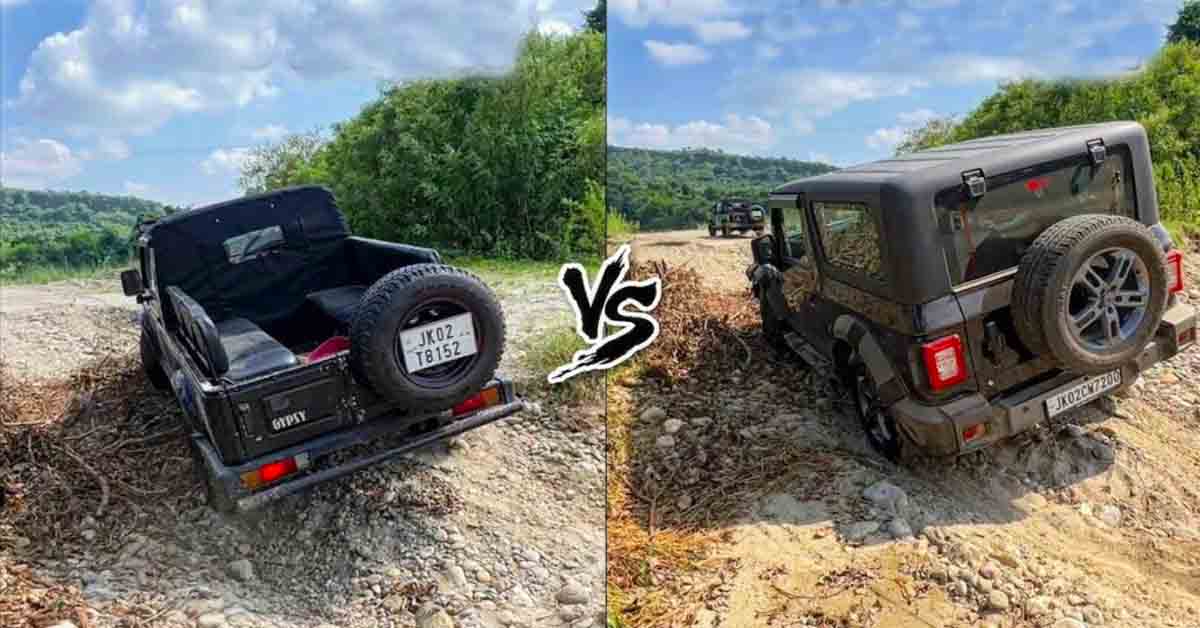 In the final phase, the group comes out of the water one by one and climbs up a little obstacle to reach a plane ground. The Gypsy is the first one to climb the slope quite effortlessly. The Mahindra Thar SUVs follow. No SUV faced any issue while climbing up even though at first glance, it looks a bit tricky. Let us know what you think of the capabilities of these machines.
Disclaimer- The embedded videos/ external content is/are being used as a convenience and for informational purposes only; they do not constitute an endorsement or approval by Car Blog India of any of the products, services, and /or opinions of the corporation or organization or individual. Car Blog India bears no responsibility for the accuracy, legality, and/or content of the external site or for that of subsequent external videos/ external content. Contact the external publisher for answers to questions regarding its content.
Join us for FREE NEWS Updates on our Whatsapp Community or our official telegram channel.