Based in Madhya Pradesh, this modified Hindustan Ambassador is now a limousine and it beautifully retains the DNA of an Amby while still being modern.
The Hindustan Ambassador is one of the most iconic cars of the Indian automotive scene. It is also one of those cars which has had the longest runs in the Indian market. There were many factors which made the Ambassador a favorite in India – timeless design, a very solid build quality, very spacious interiors and it was also used by politicians and elites of the time for which it soon became a status symbol for many. Unfortunately, this iconic car never became a classic automotive piece. That means there are many Ambassadors in India that have been modified and some that have been modified very tastefully. Here we have an example of a Hindustan Ambassador that has been modified into a limousine.
This modified Hindustan Ambassador is based in Madhya Pradesh and its conversion into a limousine has turned out very well indeed. The video of this Amby has been shared by the 'Retro Classics India' Youtube channel and it gives you a nice tour of the car inside and out. You might not be knowing this but the Ambassador is based on a monocoque chassis and it was way ahead of its time. A modification job on a monocoque chassic can be quite tricky, more so when you are making structural changes to stretch it to make a limousine.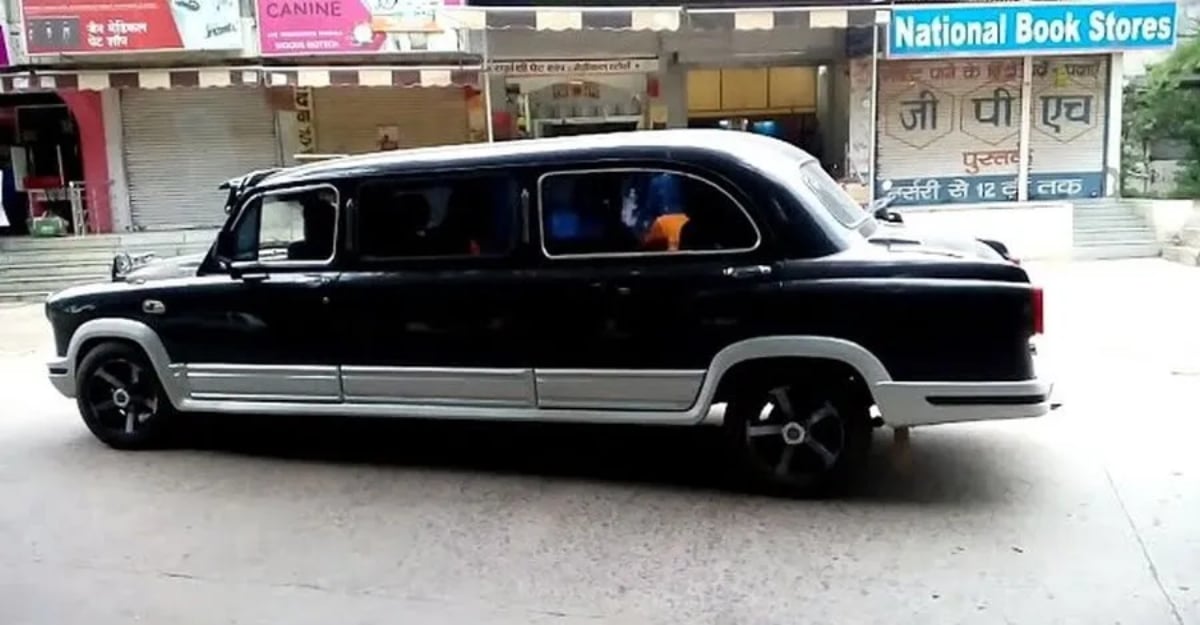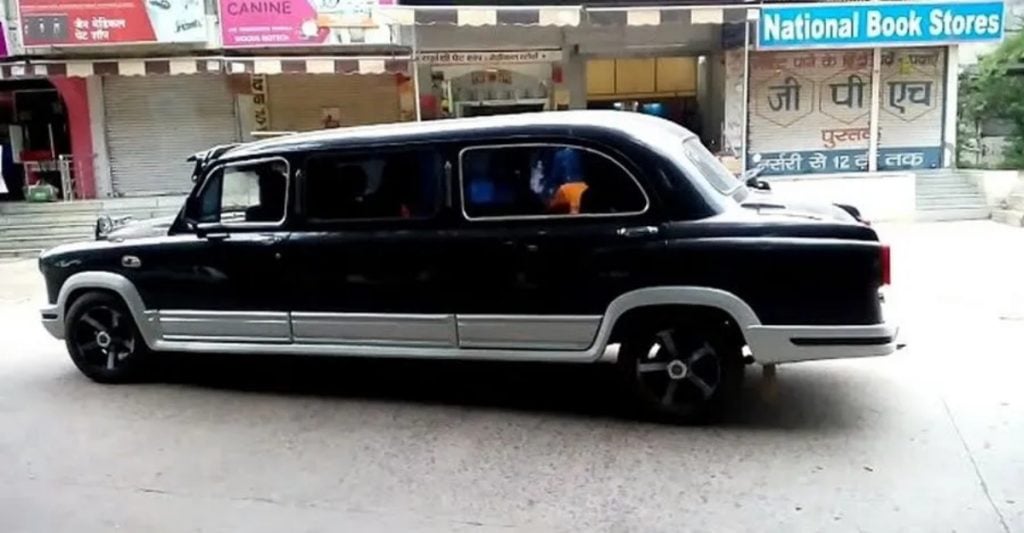 Nevertheless, the modification job has been carried out quite well. The modified Ambassador comes dressed in black paint with silver body-cladding all around and it gives the car a contrasting dual-tone look. Apart from the extended length, not much has been done to modify the body work of the car. The tail lamps are still stock units but the headlamps are new LED units and they suit the car really well. There's even a hood ornament for a little luxurious feel and though this car comes with aftermarket alloys, we wish the wheels were more period-correct to compliment the look of the car. Overall, it retains the original essence of an Amby and the modern touches add a bit more flare.
Also Read : Porcshe's Unique Retrofit Infotainment System for their Classics is a Very Cool Idea!
It is on the inside where the majority of the work has been. The dashboard and steering wheel remains identical to the original Amby but it now comes draped in all red color and even gets red velvet upholstery. The rear passenger compartment of the vehicle gets four captain seats facing each other and there's a central panel in between the seats that comes installed with a big digital screen, a stereo and also a DVD player. Not quite so modern anymore but still quite sufficiently luxurious. We are not very sure about the red interiors though.
Also Read : Porsche Boxster Owner Doing Sit-Ups During Lockdown Goes Viral – Here's Why!
This Ambassador has however not been modified mechanically in any way. This is an Ambassador 1800 model which came powered by a 1,871cc petrol engine that produces 75PS and 130Nm of peak torque. The engine came mated to a 5-speed manual transmission. An Ambassador could last you years if taken care of properly and we hope this is well taken care of too. We must however mention that structural changes to a car like this are illegal in India and such modified cars run the risk of being seized by the cops.
Join us for FREE NEWS Updates on our Whatsapp Community or our official telegram channel.