This motorcycle began life as a Royal Enfield Classic 350 but has been extensively modified to look like one of Harley Davidson's sportster range of motorcycles. The modifiers have done a great job with the motorcycle indeed.
Royal Enfield motorcycles has to be India's one of the most popular motorcycles when its comes to customizations and modifications. Be it the new 650 twins or any Royal Enfield from even e decade ago and particularly the Classic range, all have been very popular in the after market modification scene. From scramblers to Harley Davidson replicas, you will find many fine examples of modified Royal Enfield motorcycles in our country. We have already featured quite a few modified Royal Enfields here and this one right here has to be one of the best examples around.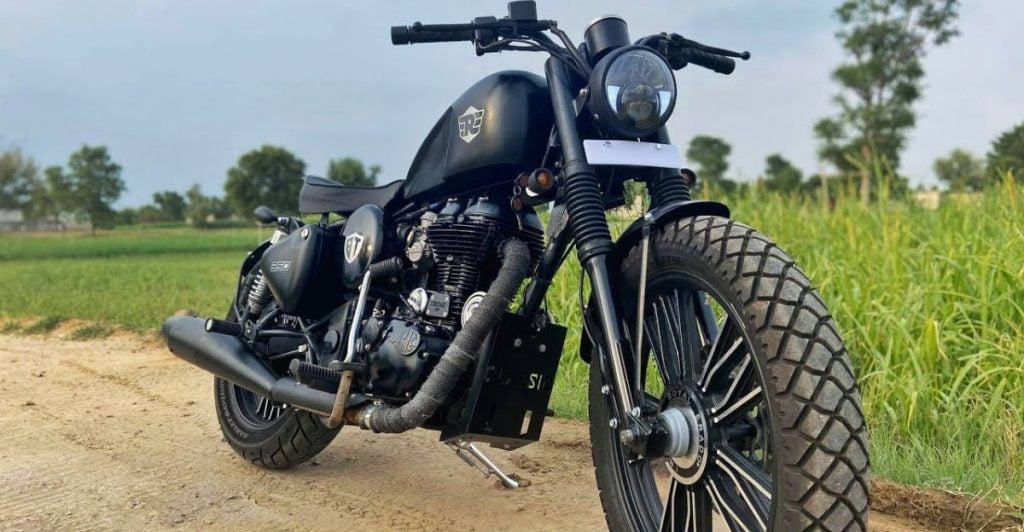 This Royal Enfield has been modified to look like a Harley Davidson Sportster and we must admit the modifiers have done a rather good job here. This video has been uploaded by Bullet Power on their youtube channel. Incidentally, they also happen to be the modifiers of the motorcycle. This motorcycle started life as a Royal Enfield Classic 350 and as you can see in the video, it was rolled into the garage with no seats.
The modification process starts by completely dissembling the motorcycle, starting with the rear portion where the wheels, suspension components, and exhaust pipes were all stripped out. After that, other parts on the motorcycle like the fuel tank, handle bar, speedometer, headlamps were also taken down. After stripping down to just its frame and engine, they were painted in a matte black shade and that's just the beginning. The modifiers then build a custom fuel tank for this Royal Enfield which looks a similar to the ones seen on Harley Davidson's Sportster range.
Also Read : Jawa Will Finally Commence Deliveries of the Perak from July 20!
The motorcycle further gets a custom rear fender to fit the wider section tires and a new frame also had to be built for mounting the custom seat. It also comes fitted with a engine bash plate and custom-exhaust pipe, which as you can hear in the video, sounds pretty darn nice. All parts of the motorcycle were then painted in black and it was shod with new alloy-wheel with wider tires. Although the handlebar has been retained from the stock motorcycle, it gets a new full-digital round instrument cluster along with a new projector type LED headlamp unit.
Also Read : This is 1959 Royal Enfield Bullet That's Powered by a DIESEL Engine!
This motorcycle also gets new suspension arms and the handlebar rake seems to have been increased as well. This modified Royal Enfield further gets some aftermarket lights here and there and some stickers too, and boy, the end result is quite a handsome motorcycle indeed. There has been no mechanical modifications and the engine remains absolutely unaltered. Overall, the modification works looks very neat and the approximate cost of this modification is between Rs 70,000 to Rs 1 lakh.
Join our official telegram channel for free latest updates and follow us on Google News here.