Electric SUVs and Pickup trucks seem to be the future of mobility.
After the Indian startup Pravaig launched the Defy, we compare it to the famed Cybetruck.
The Pravaig Defy electric SUV has a starting price of 39.50 lakh, ex-showroom.
We compare the newly launched Pravaig Defy electric SUV with the Tesla Cybertruck in terms of specs, range and more. Established in 2011, Pravaig is an Indian EV startup and Defy is its first product. The deliveries of the Defy are set to commence in the first half of 2023 and bookings are open for an amount of Rs 51,000. Let us compare it with one of the most popular electric trucks in the world, the Tesla Cybetruck.
You may also like: Do You Know the Truth Behind the Rumoured Ban on EVs in Switzerland?
You may also like: India Makes its Own Cybertruck After Elon Musk Refuses to Launch Tesla Here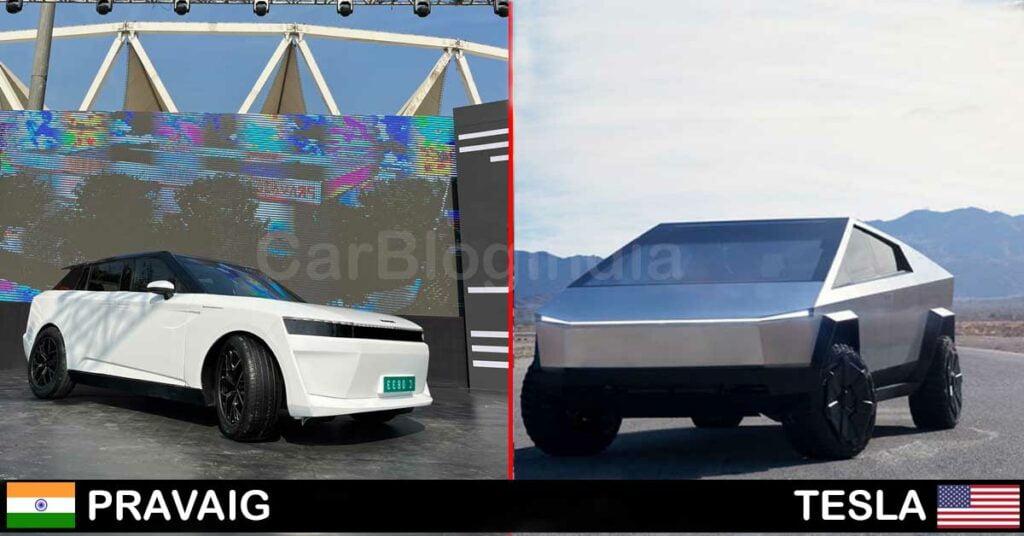 You may also like: Tesla Destination Charging Network – Things No One Told You About!
You may also like: Tata Avinya Pickup is India's Answer to Musk's Tesla Cybertruck
Pravaig Defy vs Tesla Cybertruck – Specs Comparison
Based on the skateboard platform, the Defy comes with a dual-motor AWD setup producing a healthy 407 hp and 620 Nm of peak power and torque. The electric motors get power from a 5-module Lithium-ion 90.9 kWh battery with 5,000 hardcase cells. Pravaig claims a real-world range of 500 km. Additionally, the 150 kW DC fast charging can top up the battery to 80% in around 30 mins.
You may also like: Elon Musk Recommends Tesla Cybertruck-shaped Cyberwhistle Over 'Silly Apple Products'
On the other hand, the Cybertruck has some exceptional specifications as well. Yet to be launched Cybetruck will have single, dual, and triple motor setups with AWD setups for all versions except the single motor version. While the official specifications will only be unveiled closer to the launch, it is expected that the most powerful version will come with 700 hp and a 0-96 km/h acceleration time of around 3.9 secs. The maximum range will be around 612 km.
| | | |
| --- | --- | --- |
| Specs Comparison | Pravaig Defy | Tesla Cybertruck |
| Drivetrain | Dual-Motor AWD | Single, Dual and Tri-Motor 2WD/AWD |
| Power / Torque | 407 hp / 620 Nm | 470 hp – 700 hp |
| Range | 500 km | 612 km |
| Battery | 90.9 kWh | – |
| Launch | Nov 2022 | YTB |
Pravaig Defy vs Tesla Cybertruck – Specs Comparison
You may also like: Best Electric Cars in Singapore – Tesla to BYD
Price Comparison
While the Pravaig Defy has been launched at the starting price of Rs 39.50 lakh, ex-showroom prior to the government incentives, the prices of the Testa Cybertruck range between US$39,900 for the single motor version to US$69,900 for the tri-motor trim. This roughly translates to Rs 32 lakh to Rs 56 lakh, ex-showroom. However, these prices are valid for the USA only. Thanks to the high CBU duties, the Cybertruck would easily cost twice of the above if it ever makes it to our shores.
| | | |
| --- | --- | --- |
| Price Comparison | Pravaig Defy | Tesla Cybertruck |
| Price | Rs 39.50 lakh | Rs 32 lakh – Rs 56 lakh (USA) |
Price Comparison
You may also like: Top 5 Electric Cars for Indians in Canada- VW ID.4 to Tesla Model 3
Interior and Features
The electric SUV from Pravaig comes with a massive 15.6-inch touchscreen infotainment system accentuating the centre of the dashboard, a 10-inch screen for the instrument panel, upholstery made from recycled materials, and vegan leather, powered seats with ventilation, OTA updates, premium 3D Audio System, 5/4 seat configuration, 2 individual 15.6-inch touchscreens for the rear occupants, 360-degree camera, radar, for ADAS functions and more.
You may also like: Here's Why Tata Motors Can Become Tesla of India!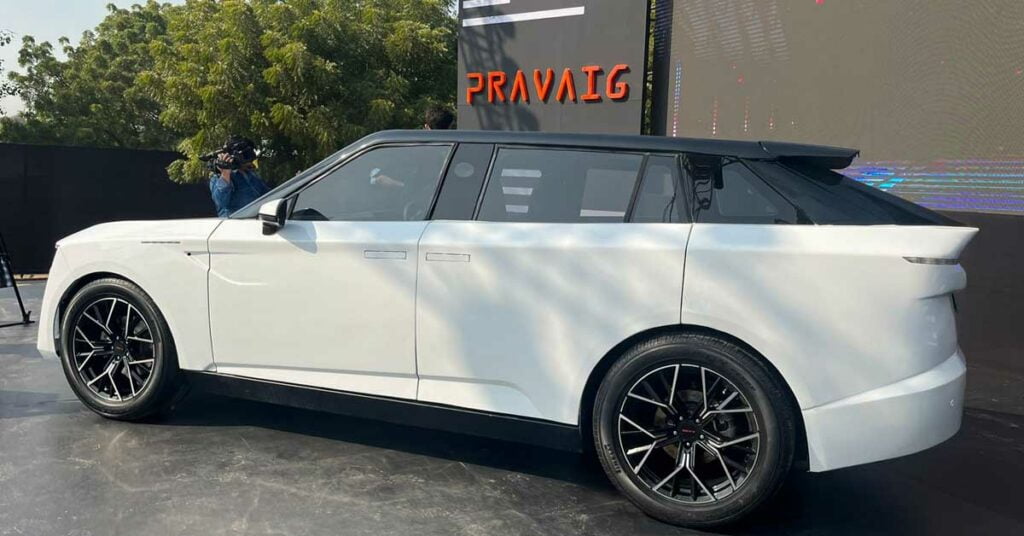 On the other hand, the details of the Cybertruck are still not out yet. However, going by the concept version that was showcased a couple of years ago and other Tesla cars on sale, the cabin could have the minimalist approach with just a screen in the centre and no physical buttons. More details will only be clear once it is launched.
Join our official telegram channel for free latest updates and follow us on Google News here.