Owning a car in Canada can be surprisingly expensive.
The YouTuber gives some handy tips on the kinds of expenses one could expect on a monthly basis.
He compares these expenses for a new and a used car.
In this video, a vlogger shares the real expenses of owning a car in Canada. Many people in Canada, especially students and migrants opt for a used car. They think that just because they are getting them cheap, they will be able to maintain the car with minimum wage or part-time jobs. However, the YouTuber very diligently puts the list of things you would need to do on a monthly basis that would incur expenses on the car and compare these charges for a new and used car. Here is what he found out.
You may also like: Tips to Prepare Your Cars For Winters in Canada
You may also like: Cost of Owning a Car in Singapore Will Shock You!
You may also like: Car Insurance to Get Costlier in Canada, Here's How to Minimize the Impact
You may also like: Here Are The Top 10 Most Stolen Vehicles in Canada
Expenses of Owning a Car in Canada
The video has been uploaded by Piyush Canada on his YouTube channel. He compares the expenses you would incur every month on a car should you decide to buy one. It becomes clear from the video that buying a car, new or used, is much easier than maintaining it. To prove this point, he breaks down all the expenses on a monthly basis. This also includes things like service and tyres which might be half-yearly or yearly expenses. But to get a clear picture, he has divided it by 12 to get the amount per month.
You may also like: Here Are The Top 5 Best-Selling Cars in Canada in 2022 So Far
He takes into account, first and foremost, the insurance which is mandatory for everyone in Canada. Thereafter, he calculates the car payments which are only applicable to new cars. However, other things are common to both new and used cars such as fuel, service, winter tires, car wash, vacuum cleaning, washer fluid for winters, air pressure (if not done at the fuel station for free) and surprise expenses that can crop up anytime.
You may also like: How to Get Cheap Car Insurance Rate in Canada
| | | |
| --- | --- | --- |
| Expenses | Old Car | New Car |
| Insurance | $80-300 | $80-300 |
| Car Payments | 0 | $400-800 |
| Fuel | $250-500 | $250-500 |
| Service | $25-100 | $40-150 |
| Winter Tires | $0-50 | $50 |
| Car Wash | $10-50 | $10-50 |
| Vacuum | $4-10 | $4-10 |
| Washer Fluid | $5-20 | $5-20 |
| Air Pressure | $0-5 | $0-5 |
| Surprise Expense | $150-500 | $150-500 |
| Total | $500-1000 | $800-1,900 |
Monthly Expenses – Old vs New Car
You may also like: Used Car Buying Tips in Canada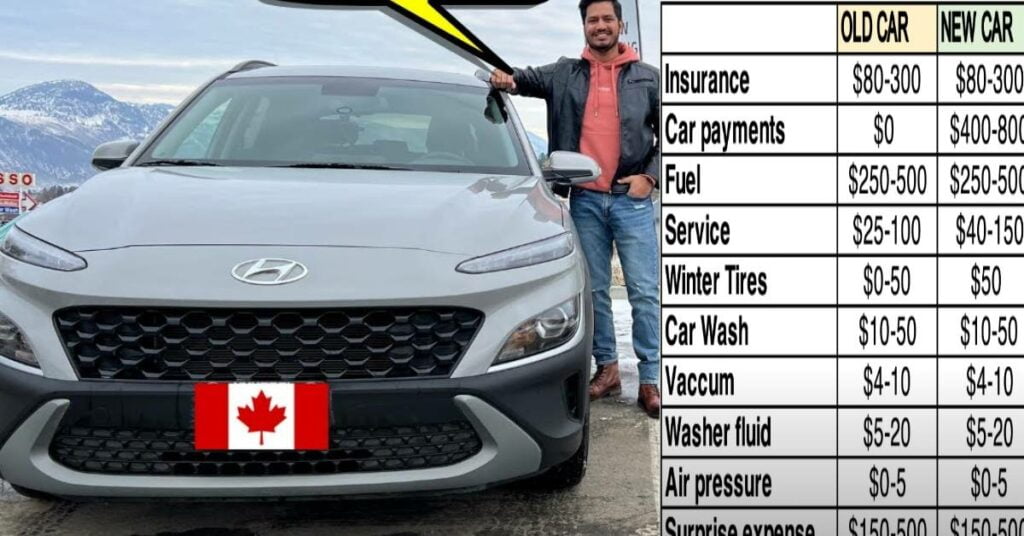 Disclaimer- The embedded videos/ external content is/are being used as a convenience and for informational purposes only; they do not constitute an endorsement or approval by Car Blog India of any of the products, services, and /or opinions of the corporation or organization or individual. Car Blog India bears no responsibility for the accuracy, legality, and/or content of the external site or for that of subsequent external videos/ external content. Contact the external publisher for answers to questions regarding its content.
Join our official telegram channel for free latest updates and follow us on Google News here.