In this age, more and more startups are being established to offer affordable electric urban mobility solutions of which this is a great example.
A Pakistani man has developed an urban mobility solution that looks like a barebones copy of the Batmobile. There are many new players emerging in the automobile industry who are trying to address vehicular pollution in urban centres. The three-wheeler autorickshaws are rather popular in the sub-continent which forms the basis for the thought process behind developing this prototype. The interview with the founder reveals a few key details including the market launch, price and range.
You may also like: Lamborghini Urus from Pakistan is Actually a Toyota Fortuner
You may also like: How Pakistani Truck Drivers Treat Indian Drivers in Canada – VIDEO
Pakistani Man Makes Batmobile Copy
The video has been shared by Khabar Digital on YouTube. The host interviews the owner of this company who has developed this unique-looking EV for an easier and cleaner city commute. As is the case with all new startups in the automobile industry, the man has developed a three-wheeler electric vehicle. He mentions that the aim of this project is to cater to those families or people who want to upgrade from a bike or a scooty but don't wish to spend a lot on a proper car.
You may also like: Bentley Mulsanne Stolen in UK Found in Pakistan!
But the main highlights of this prototype will be its electric credentials and affordability. It will have a range of around 100 km and will be developed further to get charged in 6 hours using a home adapter. On asking about why he went with the three-wheel setup instead of 4, the owner informs that it would have led to a drastic increase in the cost because it would have increased the weight, a bigger battery had to be used, suspension and additional electric motor might have to be used.
You may also like: Pakistani Couple's Reaction to New Mahindra Scorpio N
Cost
Talking about the costs, the owner shares that this prototype costs around 3 lakh PKR (around Rs 95,000 INR). But the production version will have doors, air circulation and some more modifications. Hence, the final price for the consumers will be around 8 lakh PKR (Rs 2.50 lakh INR). Furthermore, the man is clear about the need for investors as that would speed up the process of bringing the EV to the market soon and achieve mass production. The final product will be quite interesting if it is able to deliver what its founder has envisioned.
You may also like: Car Collection of India and Pakistan Cricketers – Who Has Better Cars?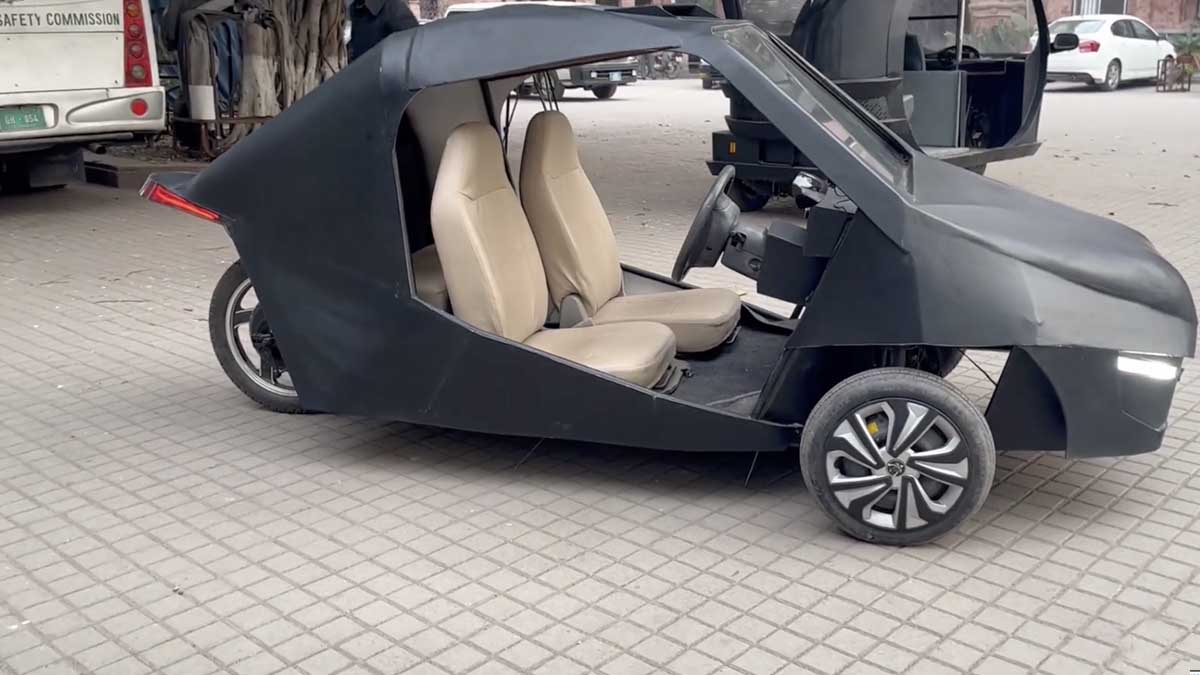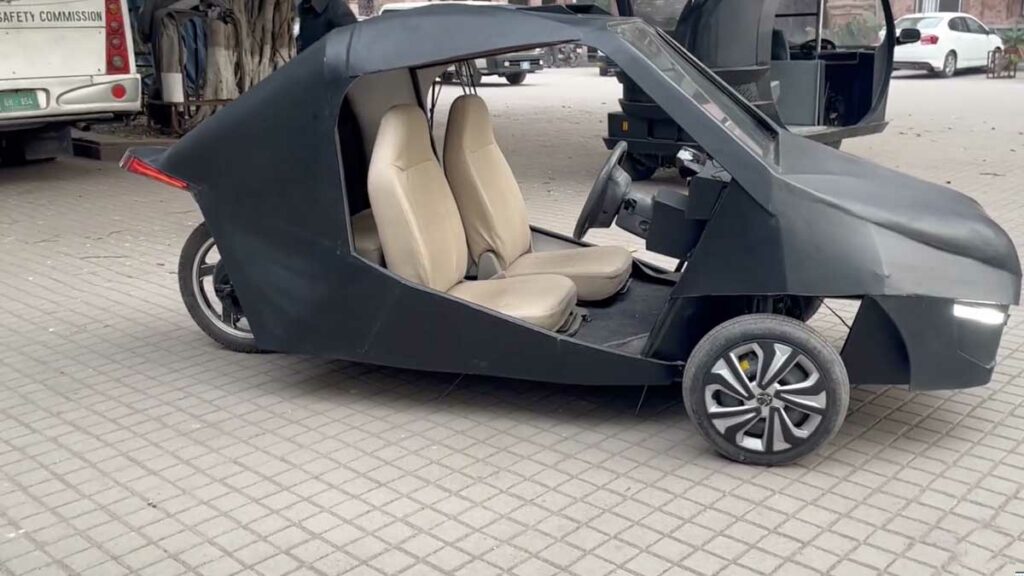 You may also like: Diesel to Cost Rs 205/litre in Pakistan After Rs 60.5/litre Price Hike
Disclaimer- The embedded videos/ external content is/are being used as a convenience and for informational purposes only; they do not constitute an endorsement or approval by Car Blog India of any of the products, services, and /or opinions of the corporation or organization or individual. Car Blog India bears no responsibility for the accuracy, legality, and/or content of the external site or for that of subsequent external videos/ external content. Contact the external publisher for answers to questions regarding its content.
Join us for FREE NEWS Updates on our Whatsapp Community or our official telegram channel.