We have seen in the past how challenging it could get to transport heavy machinery using trucks with multiple tyres across the highways.
In this video, we get a glimpse of a truck with 448 wheels. Yes, you heard that right! In a bid to transport extremely large and heavy machinery or mechanical components, special arrangements have to be made. It is not possible to manufacture trucks for such specific needs which is why detachable configurations are made that can be customized according to the need and the ease of movement. Here is one such example of this arrangement.
You may also like: Rs 2.5 Cr Kenworth American Truck On Indian Roads! – VIDEO
You may also like: Mega Trucks Carry Reactors Weighing 1908000 KG Through India
Truck With 448 Wheels
The video clip has been uploaded by Luna Ram Darji on YouTube. The narrator is seen standing next to this gigantic truck and a boiler being taken for the refinery. This boiler weighs an unbelievable 1,148 tons. Reportedly, it is being transported to Panpadra Refinery in Rajasthan. This video has been shared while the truck is crossing from Gujarat. What is quite shocking is the fact that it has been travelling for over 11 months. The technical officer travelling with the truck is quoted as saying that it would take another couple of months to reach the destination.
You may also like: 3 Volvo FM400 Trucks Rescue 200 Ton Transformer
Talking to the technical officer, it is confirmed that this has been an arduous journey. There had to be special construction made in the areas where there are long pulls as they are not designed to carry such loads. They could get broken if this is attempted to take over them. Therefore, the team has to readily construct temporary pulls and by-passes at various parts of the journey to ensure that there are no obstacles standing in the way of the movement of this uniquely constructed truck.
You may also like: Indian Truck Drivers in North America: Here's How Much They Earn
He also mentions that there is a team of around 25 people who travel with this entourage. These include engineers, axle operators, drivers, and people from the company for which this boiler is being transported. While everything depends on the traffic conditions, on a good day, this truck can cover a distance of around 20 km. That is quite impressive but it is not possible to maintain this average which is why it has already been over 11 months since this machine has been en route. What are your thoughts on this truck with 448 wheels?
You may also like: How Tata Motors Became World's 2nd Largest Truck Manufacturer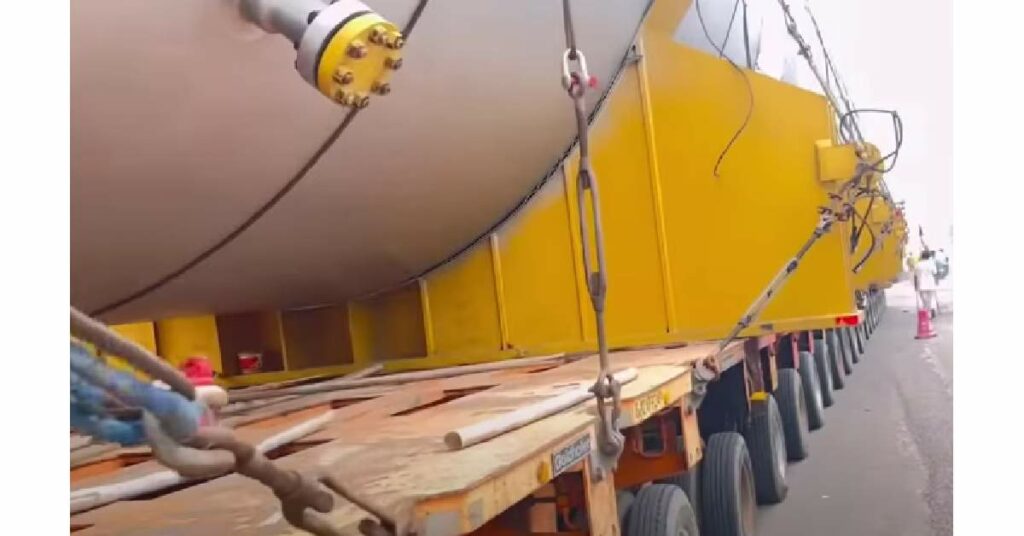 Disclaimer- The embedded videos/ external content is/are being used as a convenience and for informational purposes only; they do not constitute an endorsement or approval by Car Blog India of any of the products, services, and /or opinions of the corporation or organization or individual. Car Blog India bears no responsibility for the accuracy, legality, and/or content of the external site or for that of subsequent external videos/ external content. Contact the external publisher for answers to questions regarding its content.
Join our official telegram channel for free latest updates and follow us on Google News here.