Fires in EVs are becoming more common by the day, thereby raising concerns regarding the safety aspects that even premium EVs like Teslahave to offer.
A YouTube Shorts has emerged that shows a parked Tesla EV catch fire and exploding. The issue of fires with electric cars is getting more and more serious with each passing day. There have been a ton of incidents involving EVs catching fire and causing harm to life and property. Tesla is the biggest and the most prominent EV maker in the world. It boasts of ensuring high standards of its products. That is what makes this Tesla blowing up in smokes all the more concerning.
You may also like: Tesla Cybertruck Market Debut Not Happening This Year
You may also like: 3 Out of 4 Tesla Cars Sold In This Country Are Recalled
Watch Tesla EV Catch Fire
Although the details of this incident are not abundantly available, the number place suggests that it happened in an international market. The short video clip shows a Tesla parked somewhere when the smoke starts appearing from underneath the vehicle suddenly. Within seconds, there is a huge explosion and the parked EV is engulfed in fire. It is seen originating from under the car which is what happens with the EV because that is where the battery is placed. There have been countless incidents of the battery of EVs catching fire while charging or under high-temperature conditions.
You may also like: Watch a Tesla Go Up Against the MIGHTY Nissan GT-R in a Drag Race
One of the disadvantages of the Li-ion batteries is their temperature-dependent operation. Depending on where you live in the world, the outside temperature could range from -20 degrees in winters to 50 degrees in summers. It becomes extremely difficult to predict the behaviour of batteries in such conditions. Moreover, the characteristics of batteries while charging could even complicate matters further. That is why most fires take place when the EVs are charging.
You may also like: Find Out Why Can't Some Tesla Owners Start Their Cars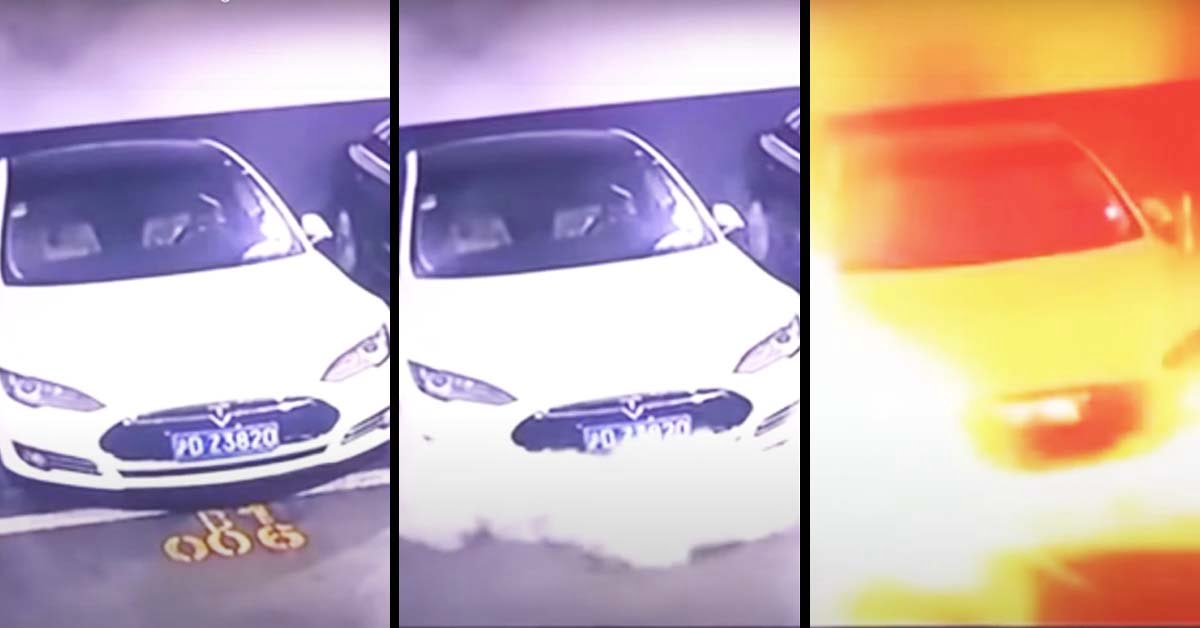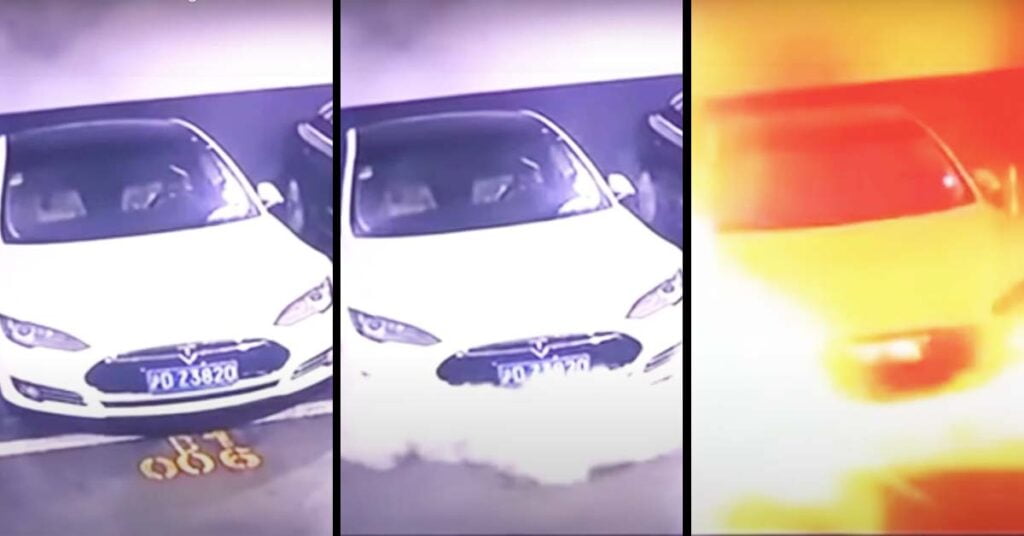 Tesla in India
Tesla had planned to start operations in India last year but the pandemic pushed the plans back. On top of that, Elon Musk, the CEO of Tesla has been quite vocal about his disappointment regarding the lack of clearly defined laws around EVs in India. He wanted the Indian government to offer more attractive subsidies on EVs to promote rapid adoption in the market. This would also help the foreign players entering the Indian market for the first time like Tesla. It was assumed that Tesla would bring its Model 3 to test waters in our market before commencing a full-blown operation. We will have to see what happens with that. Until then, we hope that we don't see another Tesla EV catch fire.
Join us for FREE NEWS Updates on our Whatsapp Community or our official telegram channel.