Mahindra & Mahindra's only sedan Mahindra Verito is a recent addition to the market and though not many cars are existing in the same segment, competition is always there. In our series of Car Comparisons on Car Blog India, today we are going to compare these two cars-  The Toyota Etios Diesel and Mahindra Verito Diesel.
Mahindra Verito Diesel Exterior Vs Toyota Etios Diesel Exterior
Mahindra Verito is the same Mahindra Renault Logan but soon after their disassociation the former renamed it as Verito. So the looks of the car are not new but Mahindra has given it a slight makeover so that it does not resemble the Logan much. A new chrome front grille, a sporty rear with chrome applique, spoiler,chrome inserts on roof rails, side cladding etc. are the additions on the exterior which make the car look aggressive and sporty at the same time. Rear and front fog lamps, body coloured door handles and many other small changes add to the charm of this beast.

The Etios Diesel is newer than the Verito a.k.a Logan in looks and is quite simple with nothing strikingly attractive. But yes if you consider a beautiful car with a nicely done elegant grooming then Etios does have an edge over Verito. The chrome grille, simple body lines, alloys looks fine on the car and give you a feel that this cars belongs to an upper segment.
Mahindra Verito Diesel Dimensions
Overall Length: 4247 mm
Overall Width: 1740 mm
Height :1540 mm
Wheel Base: 2630 mm
Toyota Etios Diesel Dimensions
Length = 4265 mm
Width = 1695 mm
Height = 1510 mm
Wheelbase = 2550 mm
The Verito has a significantly longer wheelbase, is taller slightly and also is wider and is marginally smaller in length which is not much of an issue. So going over the proportions, the Verito is certainly bigger. Now if you ask me which one would I go with, then Verito would be choice as Etios does not appeal to me with its over elegant appearance. Verito on the other hand is brutal and aggressive and the recent chrome addons make it look better.
Mahindra Verito Diesel Interior Vs Toyota Etios Diesel Interior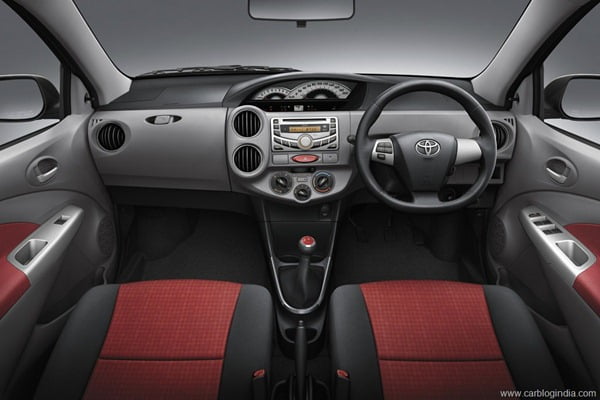 Toyota Etios Diesel Interior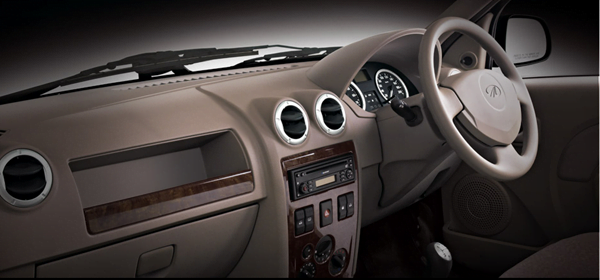 image- Mahindra Verito Diesel Interior
Mahindra is one of the renowned company and is known for some brilliant products but if you look at the Verito from inside, it completely disappoints you. Nothing contemporary on the inside and the single tone colour theme make you feel like you are sitting in a cab. The inside fit and finish is extremely good and the looks are enhanced by wooden inserts at particular places but overall the appearance is still very dull. Some of the highlighting features include Driver airbag, ABS with EBD, Adjustable front seat head restraints, Adjustable Rear seat head restraints, Adjustable front Seat Belts, single disk CD player etc. Verito is spacious on the inside and the rear is way too comfortable with enough room for leg as well as shoulder.
Toyota is always in the limelight for its quality products and Etios is no exception. It is unique, contemporary and is is better in all terms without any wooden inserts. Etios is any day better in terms of features such as ABS with EBD, dual airbags(Verito has only Driver airbag), steering mounted audio controls, 2 DIN DVD audio with remote control etc. So considering features only, the Etios has a definite edge over the Verito and I would love to go with Etios but if space is your concern then Verito should be your choice.
Mahindra Verito Diesel Engine Vs Toyota Etios Diesel Engine
Toyota Etios Diesel Engine Specifications
1.4 Litre D4D CRDI Diesel Engine
Displacement of 1364 CC
Max Power of 67.07 BHP @ 3800 RPM
Max Torque of 170 Nm @ 1800 to 2400 RPM
5 Speed Manual Transmission
ARAI Certified Mileage of 23.59 KMPL
Mahindra Verito Diesel Engine Specifications
Type : 4 cylinder, 8 valve
Displacement : 1461 cc
Max. Power (HP/rpm) : 65/4000
Max. Torque (nm/rpm) : 160/2000
5 Speed Manual Transmission
ARAI Certified mileage of 21.03 KMPL
The Verito comes with a 1.5 Litre motor which delivers 65 BHP of max power and 160 Nm of max torque at 2000 RPM. A smaller 1.4 litre engine comes fitted with the Etios which develops 67 BHP, a little over to Veritos's limit, and 170 Nm of torque at 1800 to 2400 RPM. The engine specs of both the cars are pretty much the same and also they are quite responsive on the road. Talking about the mileage of the cars the Etios is better with a certified consumption of 1 litre of diesel for 23.59 Kilometers. The Verito is marginally behind with a certified mileage of 21 KMPL.
Mahindra Verito Diesel Performance & Handling Vs Toyota Etios Diesel Performance & Handling
Honestly speaking the Verito is pretty decent on city roads and quite good on highway too. The steering response is again more than satisfactory and the suspension is stiff yet decent for city bumps. The starring is just perfect for driving and is not too light. Taking on the sharp corners isn't difficult for the Verito and it does steer well. The engine is silent at high as well as low speeds and no noise is heard on the cabin.
Cornering has never been easy for Toyotas so the Etios is not a good one at the corners and also the steering is too light for city driving which might be liked by some of you while disliked by some. The suspension is stiff enough to make you feel the bumps on the road. The NVH levels of Etios are better but overall if you compare both the cars in performance and handling, Verito is certainly better.
Mahindra Verito Diesel Price Vs Toyota Etios Diesel Price
Mahindra Verito Diesel Price In India
Mahindra Verito Diesel BS4 1.5 Litre D2 : Rs.5.85 Lakh
Mahindra Verito Diesel BS4 1.5 Litre D4 : Rs.6.15 Lakh
Mahindra Verito Diesel BS4 1.5 Litre D6 : Rs.6.71 lakh
Toyota Etios Diesel Price In India
Toyota Etios Diesel GD Variant is priced at Rs. 6.44 Lakhs
Toyota Etios Diesel GD(SP) Variant is priced at Rs. 6.90 Lakhs
Toyota Etios Diesel VD Variant is priced at Rs. 7.41 Lakhs
Toyota Etios Diesel VDX Variant is priced at Rs. 7.87 Lakhs
The Verito is a cheaper car and in fact the top end model of the same falls near to the Etios' base special model GD. But then if you look at the features you will get with the Verito then there is a certain disappointment waiting for you. The top end model D6 gets only one airbag on the driver side, a single disk CD player with no AUX or USB connectivity, ABS and EBD and no convenience features like steering mounted audio controls etc. The low pricing justifies for the lack of features.
The Etios is way too pricier with its base model coming at Rs. 6.44 Lakh and the top end going up to 7.87 Lakh. A host of new high end features are there to be offered and most of them come with the base variant as well. This means that the Etios is more loaded and should be choice of people who are not bothered about the high pricing.
Car Blog India Verdict – Mahindra Verito Diesel Vs Toyota Etios Diesel
The Etios is expensive, not bad at the driving pleasure it offers, has amazing new features, and also is spacious. The Verito is better on handling and driving dynamics, has a better engine, better quality interiors, low on features, and also is low on pricing.
So if you are looking for a car which is good at performance and handling and low on pricing and also if you are worried about the features you will get, then you should go with the Verito blindly. But if you are looking for a more contemporary looking car with top end features, better fuel efficiency and you are not looking at the price much then definitely go for Etios.
check out more-
Join us for FREE NEWS Updates on our Whatsapp Community or our official telegram channel.