The
all-new 2017 Maruti Dzire
is finally here and looks all set to repeat the success of its previous iterations. Quite obviously, the latest Dzire shares in plenty with the
latest generation Swift
, which alone makes the new car a world-class product. You can already go ahead and make a booking at the nearest authorized Maruti dealer and even test drive the new-gen Dzire. We will test drive this car later this month and you can safely watch this space for a comprehensive New 2017 Maruti Dzire review. Meanwhile, here's our review of the technical details and design of the new car.
Also See- 2017 Maruti Dzire Test Drive Review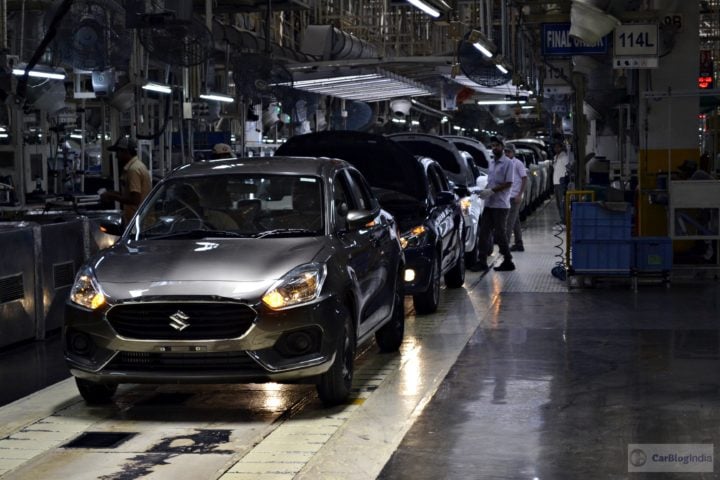 Also See- Upcoming Maruti Cars | New vs Old Dzire | New Dzire Tour
The new Dzire is being built in the Plant-A of MSIL's Manesar facility. Recently, we visited this manufacturing facility to take a look at the manufacturing processes of the 2017 Maruti Dzire. This post here will take you through different aspects of the new vehicle whilst focusing more on the technical details.
New 2017 Maruti Dzire Production at Manesar Facility
While our new 2017 Maruti Dzire review will soon give you an idea of how good this car is to drive, this post, here, highlights the manufacturing processes and other technical details related to the new Dzire. Production of the new 2017 Maruti Dzire takes place in Plant A of MSIL's Manesar production facility. For the record, Maruti's Manesar facility is spread across 600 acres and has an average production capacity of 3100 cars a day. The manufacturing facility has a workforce of 7,000 humans and 1,100 robots. The facility has boasts a 'Zero Water Discharge' setup and benefits from steam turbine generators and a 1 MW solar power system. Only 2% of its power needs are required to be met by the government's electricity supply. The Plant A comprises of a – Press Shop, Weld Shop, Paint Shop, Assembly Shop and a Vehicle Inspection Section.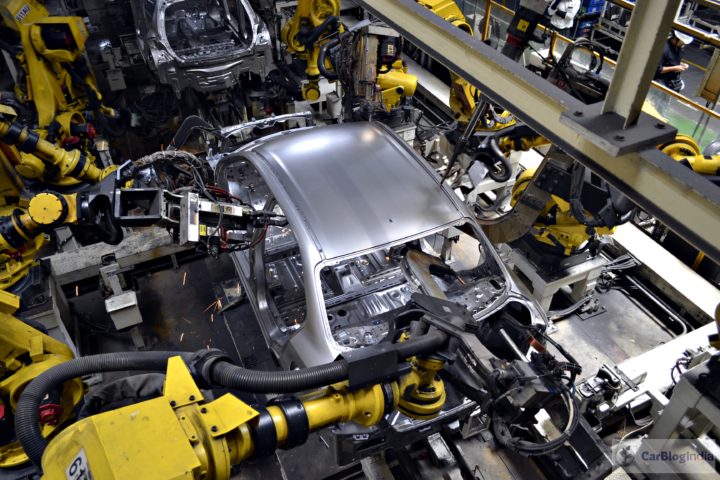 Press Shop: This is where metal sheets are cut and shaped into body panels using heavy duty stamping machines and dyes. This plant produces a panel every six seconds, which means as many as 2 million panels are produced every month! While the process of cutting and shaping of steel doesn't involve a human hand, the panels are manually checked at regular intervals to ensure a high quality.
Weld Shop: The panels then reach the weld shop, where they are unified to form a car body frame. The weld shop too is fully automated, which means human intervention is limited to periodic supervising and quality checks.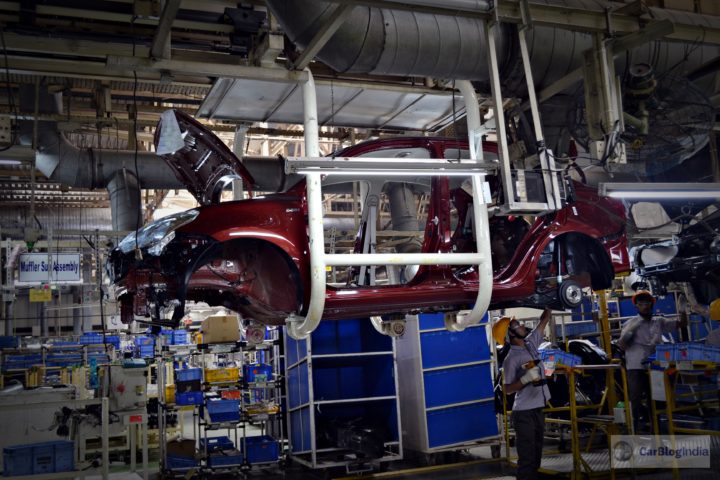 Paint Shop: The paint shop of this plant employs as many as 40 robots, which can paint in 27 colours.
Assembly Shop: This is the stage where all the parts come together to give birth to a car.
Vehicle Inspection: In the last stage many tests are done to ensure that the car is ready to be rolled out of the factory.
New 2017 Maruti Dzire – HEARTECT Platform
The 2017 Maruti Dzire is underpinned by Suzuki's 5th generation B-platform. Christened 'HEARTECT'., this new-age platform is light, rigid and strong. Hence, the new platform goes on to play an important role in enhancing the vehicle safety and performance. Being light in weight, thanks to use of high-tensile steel in its construction, this platforms help optimize the performance and fuel efficiency. Our new 2017 Maruti Dzire review should give you a good idea about the new platform's benefits in areas of stability and handling.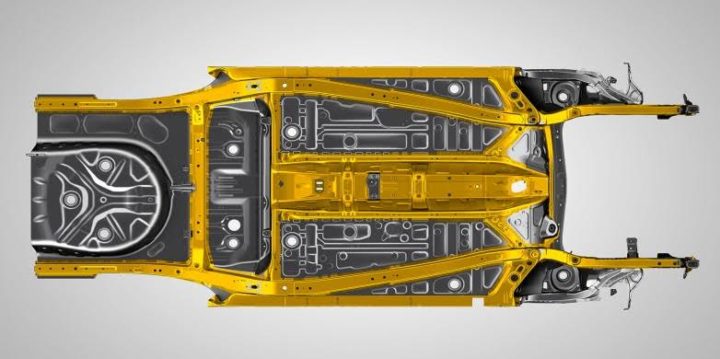 New 2017 Maruti Dzire – Safety
Maruti claims that the new Dzire ensures driver, passenger and pedestrian safety. The new 2017 Maruti Dzire is compliant with frontal offset and side impact safety regulations. Also, it meets all the pedestrian safety regulations set in by the authority. The all-new Dzire comes with the following safety features across all its variants-
ABS
EBD
Dual Front Airbags
ISOFIX Child restraint system
Apart from all this, Maruti goes on to insist that the 5th-generation HEARTECT platform enhances the rigidity, strength and crash safety of the car.
New 2017 Maruti Dzire Review – Exterior Design
Like we have been saying, the new Dzire 2017 model was developed alongside the latest Swift. This means the new generation Maruti Dzire doesn't share too much with its sibling. That said, the two cars still share many bits between them, but this around, the designers at Maruti have done enough to give the Dzire its own unique identity. No wonder then, that, the latest 2017 looks more premium and has better proportions than the earlier model.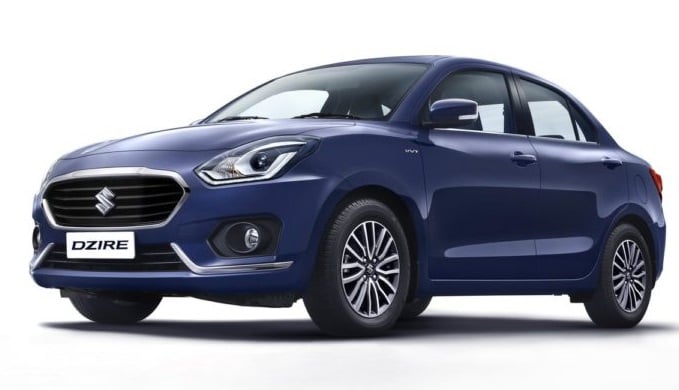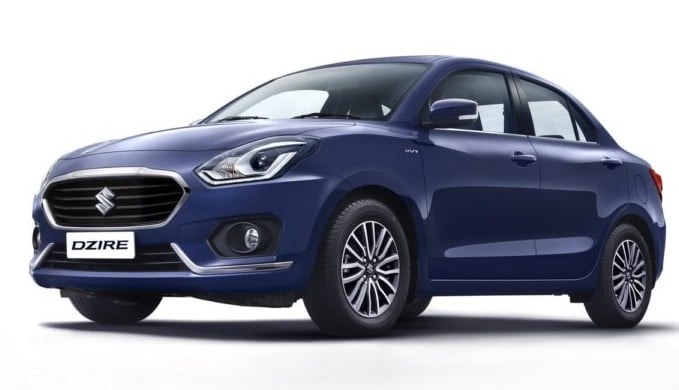 Up front, the new Dzire gets a bumper and grille combo that looks much different than that of the new Swift. There's enough chrome to keep our bling-loving buyers happy and the car looks sufficiently upmarket. While this has robbed off the sportiness that can be found on the new Swift, it has definitely made the new Dzire look classy.  The headlamps now have LED projectors.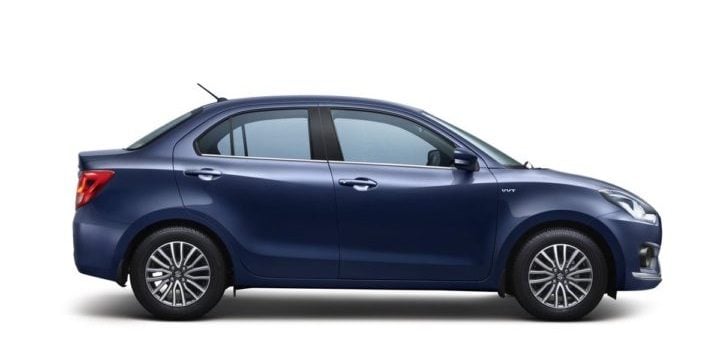 Even in its side profile the car looks pretty interesting. The car's silhouette is all-new and even the design of the A-pillars isn't the same between the new Swift and the new compact sedan sibling. The rear is totally new, too. While the compact sedan format ensues the boot continues to look stubby, the new LED taillamps give the posterior a very upmarket touch.
Also See- 2017 Maruti Dzire vs Amaze | 2017 Maruti Dzire vs Xcent | 2017 Maruti Dzire vs Aspire | 2017 Maruti Dzire vs Ameo
New 2017 Maruti Dzire Review – Interior
The interior is a reflection of the exterior. Akin to the exterior, the interior of the new Dzire doesn't look too much like that of the of the new Swift. Compared to the all-black colour theme of the Swift, the Dzire gets a beige-and-black combo. Also, there's enough faux wood to impart a touch of premium-ness to the cabin. While the Swift gets round AC vents, the aircon vents on the new Dzire's dashboard are trapezoidal in shape. Our most favorite bit, however, is the flat-bottom steering wheel, which goes on to infuses a sporty touch with the cabin.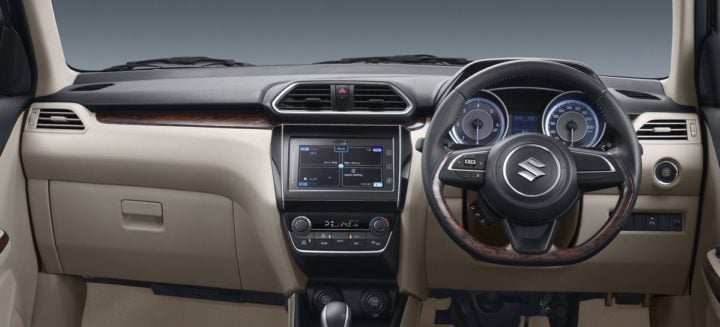 Apart from this, the interior now has a lot more space to offer. This is owing to a longer wheelbase and a wider track than before. This means seating 3 adults in the rear should no more be a thing of worry. Even the materials used in the interior seem to be of better quality than before.
New 2017 Maruti Dzire Review – Specifications
| | | |
| --- | --- | --- |
| Specifications | Petrol | Diesel |
| Engine Displacement | 1.2 L K-Series Petrol | 1.3 L DDiS Diesel |
| Power | 84 PS | 75 PS |
| Torque | 115 Nm | 190 Nm |
| Transmission | 5-speed manual/5-speed AMT | 5-speed Manual/5-speed AMT |
| Mileage | 22 km/l | 28.4 km/l |
While the new Dzire is completely new in most aspects, it continues to use the same engines as before. While you can find more details in our new 2017 Maruti Dzire review, we're pretty sure Maruti will re-tune both the motors to offer more in terms of refinement and efficiency. Also, unlike last time, the new Dzire offers a 5-speed AMT on both Petrol and Diesel models. While the Petrol variant's 1.2 L K-series, 4-cylinder, normally-aspirated engine outputs 87 PS-115 Nm, the Diesel model's 1.3 L DDiS, 4-cylinder, turbocharged engine outputs 78 PS-190 Nm. Both the engines come along with a 5-speed Manual transmission as standard. ARAI mileage figures are 22 KMPL for the petrol and 28.4 KMPL for the Diesel model, making the Dzire the most fuel efficient car in India.
New 2017 Maruti Dzire Features
The new 2017 Maruti Dzire will continue to offer L-, V- and Z-level trims. The Z trim offers many creature comforts that have been, till now, absent in the Dzire. Highlights of the features list include-
Precision Cut Two-tone Alloy Wheels
Rear AC Vents
Standard Dual Front Airbags
Auto LED Projector Headlamps
Steering-mounted Audio and Telephone Controls
LED Projector Headlamps
Front and Rear LED Headlamps
Touchscreen AVN
Apply CarPlay
Standard ABS with EBD
ISOFIX Child Seat Restraint System
Seatbelt Warning Audio Alarm
Door Ajar Waring Light
Android Auto
Mirror Link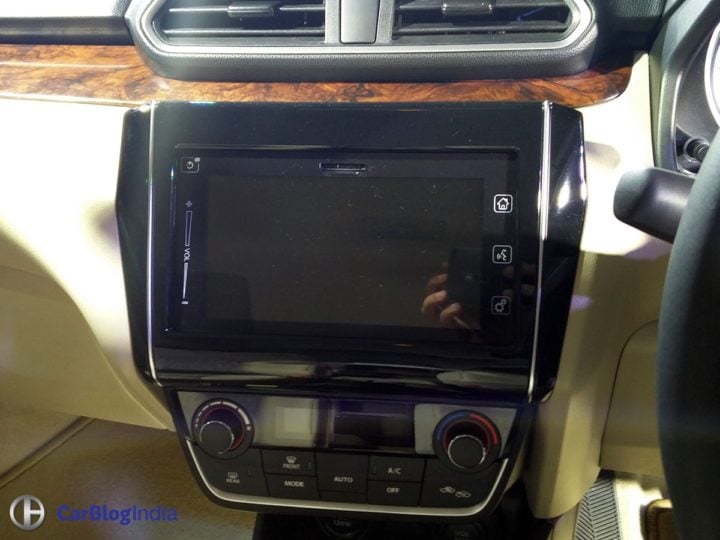 Also See – 2018 Maruti Gypsy | Old vs New Swift | S-Cross Facelift | Ignis vs Dzire | Maruti Baleno
Here are some more details on the new 2017 Maruti Dzire – 
New 2017 Maruti Dzire Price
| | |
| --- | --- |
| Minimum Price | Rs 5.45 Lakh |
| Maximum Price | Rs 9.41 Lakh |
A modern platform, new features and additional safety equipment has lead to an increase in the prices. The Dzire range starts at Rs 5.45 lakh and goes all the way to Rs 9.41 lakh.
| | |
| --- | --- |
| New Maruti Swift Dzire 2017 | Price (ex-showroom Delhi) |
| 2017 Maruti Dzire LXi | Rs. 5.45 lakh |
| 2017 Maruti Dzire VXi | Rs. 6.29 lakh |
| 2017 Maruti Dzire ZXi | Rs. 7.05 lakh |
| 2017 Maruti Dzire ZXi+ | Rs. 7.94 lakh |
| 2017 Maruti Dzire VXi AMT | Rs. 6.76 lakh |
| 2017 Maruti Dzire ZXi AMT | Rs. 7.52 lakh |
| 2017 Maruti Dzire ZXi+ AMT | Rs. 8.41 lakh |
| 2017 Maruti Dzire LDi | Rs. 6.45 lakh |
| 2017 Maruti Dzire VDi | Rs. 7.29 lakh |
| 2017 Maruti Dzire ZDi | Rs. 8.05 lakh |
| 2017 Maruti Dzire ZDi+ | Rs. 8.94 lakh |
| 2017 Maruti Dzire VDi AMT | Rs. 7.76 lakh |
| 2017 Maruti Dzire ZDi AMT | Rs. 8.52 lakh |
| 2017 Maruti Dzire ZDi+ AMT | Rs. 9.41 lakh |

New 2017 Maruti Dzire Colours
Oxford Blue
Sherwood Brown
Gallant Red
Magma Gray
Silky Silver
Arctic White
New 2017 Maruti Dzire Dimensions
| | |
| --- | --- |
| Length | 3,995 mm |
| Width | 1735 mm |
| Height | 1515 mm |
Stay tuned to CarBlogIndia for a comprehensive new 2017 Maruti Dzire review with test drive details. What do you feel about the new 2017 Maruti Dzire? Are you planning to go have a test drive of this car? Do let us know by sharing your views in the comments section below.
Editor Rating

Rated 4 stars

Excellent
---
New 2017 Maruti Dzire Review

Reviewed by:

Published on:

Last modified:
---