The future of mobility is electric and this applies to the commercial trucking space as well.
Tesla commenced deliveries of its much-awaited electric truck, the Semi.
We compare it to the established Mack Anthem that has been around for over a century.
In this post, we compare the Mack Anthem and Tesla Semi electric truck. Tesla commenced the deliveries of its electric truck a few days ago. It aims to disrupt the market with affordable eco-friendly trucks. Moreover, the performance stats of the Semi are quite exquisite. On the other hand, Mack has been making trucks for over 100 years. Its diesel trucks are arguably the most popular among buyers. Let us take a look at the comparison between these two products with different hearts.
You may also like: Xiaomi Electric Spied on Public Road – Launch Next Year!
You may also like: South Korea Fines Tesla USD 2.2 Million for False Range Claims
You may also like: Joe Biden Reveals Electrification Plans, Elon Musk Asks Him to Buy a Tesla
You may also like: Tesla Destination Charging Network – Things No One Told You About!
Tesla Electric Semi vs Mack Anthem Specs Comparison
In terms of the specifications, Tesla has been quite tight-lipped about the actual performance numbers. However, there are a few numbers revealed by the EV giant allowing us to take a calculated guess. Elon Musk announced that the Semi will have a tri-motor setup. Considering the motors in the other Tesla EVs, we can estimate a total power output of somewhere in the vicinity of 900 hp and 1,600 lb-ft torque. This will allow a 0-60 mph acceleration time of around 5 secs (unloaded) and 20 secs (loaded). These are some serious performance numbers.
You may also like: Pravaig Defy vs Tesla Cybertruck – Can an Indian Startup Take on the EV Giant?
On the other hand, the Mack Anthem comes in different variants – MP7, MP8 and MP8HE. Depending on the trim you choose, the power and torque range from 325 hp to 505 hp and 1,260 lb-ft to 1,860 lb-ft. However, the real difference lies in the performance. Under loaded conditions, the Anthem is able to achieve the 0-60 mph acceleration in 60 secs. That is three times slower than the Semi.
You may also like: India Makes its Own Cybertruck After Elon Musk Refuses to Launch It Here
| | | |
| --- | --- | --- |
| Specs Comparison | Tesla Semi | Mack Anthem |
| Powertrain | 3 Electric Motors | 10.8-litre and 13-litre diesel |
| Power | 900 hp (exp.) | 325 – 505 hp |
| Torque | 1,600 lb-ft (exp.) | 1,260 – 1,860 lb-ft |
| Acceleration (0-60 mph) (Loaded) | 20 secs | 60 secs |
| Drag Coeff. | 0.36 | 0.65 – 0.70 |
Specs Comparison
You may also like: Tesla Locks Owner Out of His Model S For Not Paying Rs 20 lakh For New Battery
You may also like: Tesla Semi Delivered to Pepsi After 5 Years of Delay!
Price Comparison
The other significant difference lies in the prices. Tesla has priced the Semi quite competitively in order to disrupt the trucking market. Its prices start from $150,000 (for the 300-mile range version) and $180,000 (for the 500-mile range version). However, after the tax credit reduction, these prices drop down to $110,000 to $140,000. On the other hand, the Mack ranges from $100,000 (for the cabin version) and $140,000 (for the sleeper models). The other diesel-powered popular trucks are significantly more expensive.
You may also like: Tata Avinya Pickup is India's Answer to Musk's Tesla Cybertruck
| | | |
| --- | --- | --- |
| Price Comparison | Tesla Semi (after tax credit) | Mack Anthem |
| Base Trim (starting) | $110,000 | $100,000 |
| Higher Trim (starting) | $140,000 | $140,000 |
Price Comparison
You may also like: Ola CEO Bhavish Aggarwal to Elon Musk: Thanks, But No Thanks
Interior and Features
On the inside, the Tesla features a minimalist cabin with a unique centre seating position for the driver for better visibility. There are two large 15-inch touchscreens to manage all the features and controls for the HVAC and the truck. There are two additional seats behind the driver's seat. However, there is no provision for sleeping, at least from the images that we saw. However, if there are changes to that, we will have to wait to find out.
You may also like: Watch A Parked Tesla EV Catch Fire
On the other hand, the Mack Anthem has a more traditional cabin with tons of control switches and room for microwave, fridge, racks and sleeping. There is a dashboard with tons of buttons geared toward the driver. The seat adjustments are quite extensive. But the main difference lies in the massive area for sleeping. Installation of the mattress allows drivers to sleep during long hauls. It is definitely a more established and accepted cabin layout.
You may also like: Billionaire Adar Poonawalla Advices Elon Musk on Tesla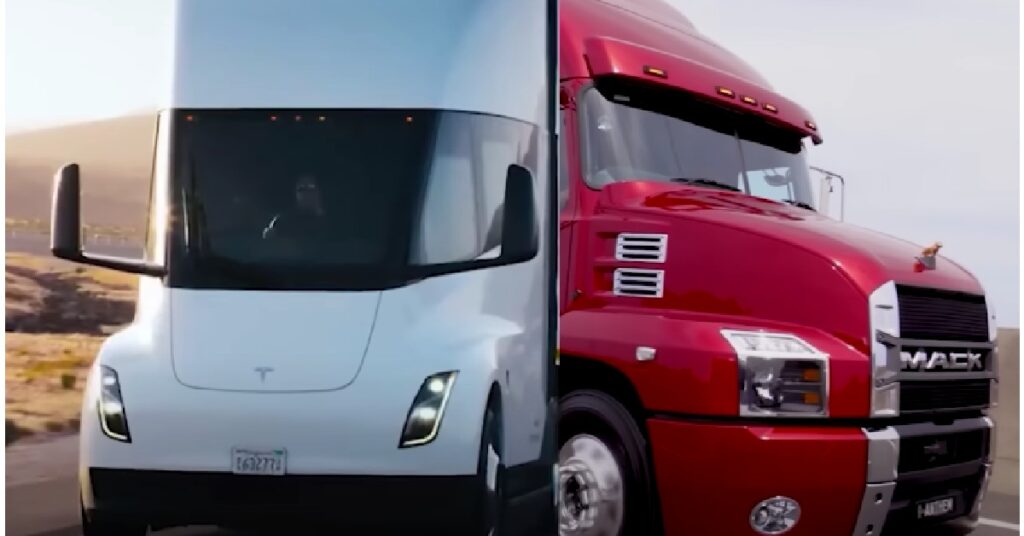 Disclaimer- The embedded videos/ external content is/are being used as a convenience and for informational purposes only; they do not constitute an endorsement or approval by Car Blog India of any of the products, services, and /or opinions of the corporation or organization or individual. Car Blog India bears no responsibility for the accuracy, legality, and/or content of the external site or for that of subsequent external videos/ external content. Contact the external publisher for answers to questions regarding its content.
Join our official telegram channel for free latest updates and follow us on Google News here.